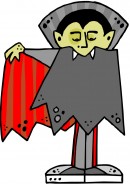 On to the third part of the Super Supernatural Mystery Novels with the Vampire Theme and Werewolf Theme:
Vampire:
Charlaine Harris: Southern Vampire Mystery Series… Sookie Stackhouse isn't your run-of-the-mill cocktail waitress! Sookie happens to have a vampire boyfriend AND she's telepathic!
Dean James (aka Honor Hartman & Jimmie Ruth Evans)… Simon Kirby-Jones is an American author living in Snupperton Mumsley, England who just happens to be a vampire!
Aimée & David Thurlo: Lee Nez Mystery Series… Lee (aka Leo) happens to be a Navajo policeman with a twist… he's half vampire…
A site reader just asked that I include Mary Janice Davidson to the list of Cozy Mystery authors who write mysteries with a Vampire theme… Undead and Unwed is the first in the series…
Werewolf:
Karen MacInerney: Tales of an Urban Werewolf Mystery Series… Sophie Garou isn't content with just braying at the moon…
This list doesn't include the following Paranormal Cozy Mystery themes: Ghost, Witch, Enchanted/Magical, or Psychic or 6th Sense  (which I've listed on the Theme page.)
Please feel free to post a comment if you know of any other mystery authors (who are currently on the Cozy Mystery site) who you think write mysteries that would fit into this Vampire and Werewolf  Theme. Thanks!
♦To access more Cozy Mysteries by Theme click on this link.♦