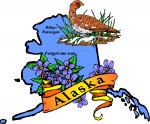 Here are some fun Alaska facts:
The capital is Juneau.
The largest city is Anchorage.
State motto is "North To The Future".
State nickname is "The Last Frontier".
State flower is the Forget-me-not.
State bird is the Willow Ptarmigan.
Mystery authors who are found on the Cozy Mystery Site who feature Alaska locations/settings in their books:
Vicki Delany: Klondike Mystery Series
Susan Froetschel: Alaska Grey
Sue Henry: Alaska Mystery Series
Christopher Lane: Inupiat Mystery Series
Dani Pettrey: Alaskan Courage Mystery Series
Dana Stabenow: Kate Shugak Mystery Series AND Liam Campbell Mystery Series
Barbara Vine (aka Ruth Rendell): No Night is Too Long
Please feel free to comment if you see an author from the Cozy Mystery Site who belongs on this list, or if you have any corrections.