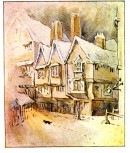 The following are the (Cozy) Mysteries that are set in Great Britain. These are by mystery authors (both British and non-British) whose last names begin with P, R, & S:
Robin Paige: The writing team comprised of Susan Wittig Albert and Bill Albert (her husband) write a Victorian mystery series.
Kate Parker: Milliner Mystery Series, Victorian Bookshop Mystery Series, & Deadly Mystery Series
Paula Paul (aka Paula Carter): Dr. Alexandra Gladstone Mystery Series
Andrea Penrose: Lady Arianna Regency Mystery Series
Andrea Penrose: Wrexford & Sloan Mystery Series is set in  Regency London.
Anne Perry: She has several British series from which to pick.
Elizabeth Peters (aka Barbara Michaels, Barbara Mertz):  She writes a series set in Victorian England which features an Egyptologist.
Ann Purser: She writes a "days of the week" series featuring a house cleaner. Lois Meade Mystery Series & Ivy Beasley Mystery Series
Sheila Radley: Radley writes the Inspector Quantrill Mystery Series which features a country policeman and his sergeant.
Ruth Rendell (aka Barbara Vine): She writes the Chief Inspector Wexford series and many superior stand-alones.
Phil Rickman: The Merrily Watkins Mystery Series
David Roberts: His series is set in the 1930s and features an aristocrat and a journalist duo.
Peter Robinson: The Chief Inspector Alan Banks series.
Kate Ross: Her series is set in 1820s London.
Betty Rowlands: Both of her series are set in England.
C. J. Sansom: 16th century England is the setting for his Matthew Shardlake Mystery Series.
Dorothy L. Sayers: The popular Lord Peter Wimsey novels
Catherine Shaw: Her series is set in late 1800s England.
John Sherwood: His botanist/horticulturalist/sleuth lives in London.
Dorothy Simpson: Her series features a police inspector.
Nicola Slade: Both of her series take place in England, one of them during  Victorian times.
Joanna Campbell Slan: Her Jane Eyre Chronicles Mystery Series is set in mid 1800s England.
Cynthia Smith: Her Emma Rhodes Mystery Series features a PI who guarantees to solve her clients' problems in one week.
Veronica Stallwood: Her mystery series is set in Oxford.
Rosemary Stevens (aka Rosemary Martin): Her series takes place during the late 1700s, early 1800s.
Ann Summerville: Her stand-alones feature British sleuths.
Other British lists:
Authors beginning with E, F, G, & H
Authors beginning with I, J, K, L, M, & N
Authors beginning with T , U, & W
♦To access more Cozy Mysteries by Theme click on this link.♦