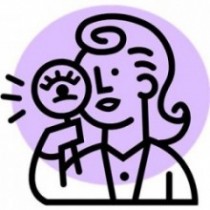 Not very long ago, MJ sent in an interesting comment about female sleuths. I have to admit that most of my favorite authors write series which feature female sleuths, so I'm pretty familiar with a whole gamut of them.
MJ:
I like a female protagonist in the cozy mysteries I read to have what I call the "3 S's" – smart, savvy, and successful. The sleuths in my recommendations meet those criteria.

I read a cozy this past month where the main character/protagonist was weak and not the brightest bulb on the block. In fact there were NUMEROUS inexplicable stupid situations, both in this character's background and within the story (I don't want to give too much detail here).

This author wrote an excellent mystery. I sent an email to the author suggesting the main character be given some savvy and smarts in future stories. It would take little effort to do some tweaking and add these attributes to this character. The author wrote back and stated if this dimension was added to the character, she (the sleuth) would be totally 'out of her element' in a cozy mystery. I sent another email listing several authors whose female protagonists are smart, savvy, and successful and their books ARE considered cozy mysteries (also very popular ones).

I think we all have different ideas of what makes up an interesting/engaging main character. This just happens to be what I prefer in a cozy.
MJ, I totally agree with you. I don't stay with a series if I don't like the sleuth. I could almost venture to say that the main sleuth is my number one reason for following an author's series. Obviously, the writing, setting, other characters, and mystery are right up there, but a sleuth I don't like: No way!
I read the first mystery in a VERY popular Cozy Mystery series that I could absolutely not believe was a top-selling series. The main sleuth was a total ditz: as the first person at the scene of a crime, she actually found clues and kept them from the police. (I wrote an entry about this a while back. That's how much it irritated me!) I broke my 50-page rule, and finished the book because I knew so many people think the series is absolutely wonderful, but I was so irritated throughout the rest of the book that I wondered how this ditz became such a popular sleuth.
As for the author who wrote to you saying the sleuth would be totally 'out of her element' in a Cozy Mystery: Yow! I probably shouldn't say this, but huh? Does this mean that this author thinks all female sleuths in Cozy Mystery books are ditzes? (I'm not even sure that's a word…) Hmmm… Does this author think Miss Marple is 'out of her element'  in the Cozy Mystery books that Agatha Christie wrote? Does this author think that all of us Cozy Mystery readers are reading Cozy Mystery books which feature ditzes as their sleuths?
What do you all think? If you had to pick one as being more important than the other: Do you like your female sleuths to have the (as MJ says) "3 S's" (Smart, Savvy, and Successful) or do you think the quality of the mystery is more important? As MJ said: "This author wrote an excellent mystery." so she/he delivered on that.
P.S. When writing your comment, please do not post the names of the authors/sleuths who you do not like. Let's discuss this without naming names in a negative way.  Thank you!