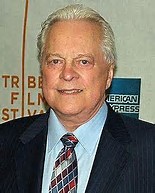 I know a lot of you follow Turner Classic Movies channel's mystery movies, as well as their terrific classic movies. And, let's face it, anyone who enjoys that channel knows how absolutely phenomenal Robert Osborne's terrific special conversations with actors, as well as his even more terrific introductions and wrap-ups of movies were. Unfortunately, Robert Osborne passed away on March 6, 2017. Because of his recent death, the Turner Classic Movies channel has rescheduled their showings for this weekend to include "Private Screening" with different actors as well as the 20th year anniversary tribute for Robert Osborne, along with his "Live from the TCM Film Festival" conversations with actors.
Over the years, I have watched many of these special Robert Osborne showings. I never seemed to get enough of his vast knowledge of Hollywood's best and finest years. I loved hearing him talk about the meticulous notes he has taken all of his life. I also loved hearing all the Hollywood tidbits he would tell his audience.
If you get the Turner Classic Movies channel, you may be interested in seeing some of these very special Robert Osborne highlights. I know I am!