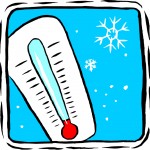 My daughter will be flying in from Massachusetts later on today, and I know that she is hoping that our warm and muggy days hold out during her visit. The weather out east has been an eye-opening experience for her.
Yesterday we were wearing elbow-length shirts, but today is supposed to only get up to 63*… Not as bad as Cambridge winters, but certainly not as good as our previous 70* days.
Every once in a while my husband and I talk about where we would like to retire – when he finally retires. He comes from Ohio, and I have such fond memories of my grandmother's home in northern Iowa >>> Those two states come up a lot. We had a little bit of a cold snap two weeks ago (I think it got down in the 40s) and my husband again said we should scrap those two states off of the list of possible retirement destinations…
I have to admit, although I miss the beauty of the four seasons… autumns with the beautiful leaf colors and winters with the pristine snowfalls. I also remember driving on black ice, doing a 180* unintended circle on a bridge (thank goodness there were no other cars present before I was able to straighten up… and also, that my car stopped before going over the side of the bridge!)
Getting back to the original point of my entry… My daughter is flying in for the holidays, and I am in the midst of trying to get the house cleaned. (When did she start taking on a "guest" status to me?!?) We are so fortunate to have our son still living here in town, so it will be the four of us for the holidays.
It seems my housework break is up… I have a few more things to get done before picking her up at the airport…