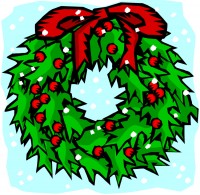 Most of you know that I have a very long list of Christmas & Hanukkah mystery books on the site. In fact, the list is so long that I have had to cut it into alphabetical pages. We are so lucky to have so many holiday books available to us. While I haven't read all of the books, I have read several of them.
Recently, I started thinking about the problem some of us might have choosing just one holiday themed mystery. Since there are so many Christmas theme mysteries on these lists, where should we begin? How can we decide which books we want to read? What's a person to do?!?
That's when I started thinking that we should make up a list of each of our very, very favorite holiday mystery book. Only one Christmas or Hanukkah mystery book, with each of us telling why the one Christmas or Hanukkah mystery book  is our very favorite holiday theme mystery book for this time of year.
It's the only time of year when I read anthologies. I know, I know! I'm missing out on a lot of great introductions to many different authors, I just happen to prefer mystery novels. But as I said, this is the time of year when I read both holiday stories and novellas. So, if your one favorite mystery book is an anthology, go for it!
If someone new to holiday theme mystery books asked you for one suggestion, what would that be? I know it's difficult! Believe me! I have one pretty strong idea about the one Christmas mystery book I would suggest, but let me think about it a little longer! Besides, I'm going to have to go "revisit" the book so that I can tell you why it would be the one I suggest.
Here are some of our favorite Christmas Mystery Books:
Marian Babson: The Twelve Deaths Of Christmas
Mignon F. Ballard: Hark! The Herald Angel Screamed
Rhys Bowen: The Twelve Clues of Christmas
Agatha Christie: The Adventure of the Christmas Pudding
The Adventure of the Christmas Pudding on Kindle format
The Adventure of the Christmas Pudding on Nook format
Conan Doyle: The Adventure of the Blue Carbuncle (which can be found in The Adventures of Sherlock Holmes)
Heather Graham: The Last Noel
Cyril Hare: An English Murder 
Kate Kingsbury: Special Pennyfoot Hotel Mystery Series (So far there are 8 Christmas mysteries in this series.)
Charlotte MacLeod: Rest You Merry (1st in the Peter Shandy Mystery Series)
Rest You Merry on Kindle format
Rest You Merry on Nook format
Katherine Hall Page: Body in the Sleigh
Valerie Wolzien: We Wish You a Merry Murder AND 'Tis the Season to be Murdered