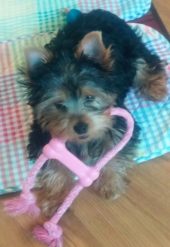 (For those of you who only want to read my entries about mysteries, this one's not for you.)
My husband and I finally forgot about how difficult life becomes when you adopt a puppy. Our last "puppy" (if you can call our 16 and a half year old dog, Sprite, a puppy) passed away five years ago. Yep! It took us all these years since Sprite was really a puppy to forget about the chewing of furniture/walls/shoes, the almost hourly wake-ups during the night, the baby rails locking off the kitchen, and the continual need to sit on the floor playing tug-of-war and squeaky-ball-toss.
And, I'm happy to say that it's a terrific thing that we forgot! We are absolutely in love with our new little girl. (This is something that my husband and I keep reminding ourselves!)
Her name is Cocoa.  We considered for a long time naming her "Cola" as a sort of tribute to our beloved Bichon, "Sprite" (although Sprite was not named for the soft drink but rather for elf-type sprites because of the way she hip-hopped on the grass when she was a little puppy.) Our new puppy is so dark that we considered Cola to be a good name because of the color and the reference to Sprite. Also, she has almost no tail so "Cola", (meaning tail in Spanish) seemed like a fun reverse description.
However, we just couldn't get used to calling her Cola. Somehow when we tried Cocoa, the name just seemed to fit. So, Cocoa it is!
Cocoa, being the runt of the litter, is quite tiny. Sprite was very big for her breed, but Cocoa is very small for her's. I'm surprised that her tiny size was not the cause for me hurting my foot a few days after we brought her home. She is so small that I am always worried about her scooting under my feet. As I stepped over the dog fence in our kitchen, I caught my foot and went sprawling on the floor. My son was holding Cocoa at the time, so she was not to blame, just my being in a hurry. (We went to the ER and nothing was broken, but I have been limping around for a couple of weeks now.)
Unfortunately for my husband, because of my foot I haven't been able to share in the night time duties. I'm getting a whole lot better which means that I'll be doing more than just providing him with step by step "helpful" instructions about how he should be doing things. (I sure hope he isn't as "helpful" to me when I am taking care of Cocoa during the night.)
Well, I just thought I'd let you all know about our family's newest addition. I have to go now, Cocoa's nature is calling!