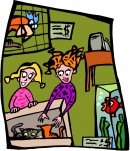 Still continuing with the authors from my lists… I have two authors who specialize in Mystery Series with a Pet Sitting, Pet Boutique, and Pet Sitting Themes:
Bethany Blake: Lucky Paws Petsitting Mystery Series
Blaize Clement is a psychologist who writes the Dixie Hemingway Mystery Series, which is set in Florida and features a sleuth who gave up her job as a deputy sheriff and now confines her sleuthing to the "cozy type" while she pet-sits as a profession.
The Petsitter Mystery Series is written by a contract lawyer who absolutely loves animals… Linda O. Johnston. Her petsitter happens to also be a lawyer, with a darling little Cavalier King Charles Spaniel by the name of Lexie who brings her much joy. (I'm a little partial to those sweetie-pie dogs… as my mother has one who she absolutely loves.)
Maggie Toussaint writes the Dreamwalker Mystery Series. The sleuth is both a landscaper and a pet sitter.
Now, on to the Mystery Series with a Pet Store Theme. I have one author from my lists who fall in this category:
Sparkle Abbey writes the Pampered Pets Mystery Series, which features two sleuths: one is the owner of the Bow Wow Boutique and the other sleuth is a pet therapist.
Lydia Adamson writes three series, one of which is the Alice Nestleton Mystery Series, which features an actress and occasional cat-sitter.
Barbara Block  is also known as Isis Crawford,  and vice versa. But, it is as Barbara Block that she writes the Robin Light Mystery Series, which features a pet store owner who has a nose for solving mysteries.
Krista Davis writes the Paws and Claws Mystery Series which is set in Wagtail, Virginis. Holly Miller is an employee of her family owned inn that caters to pets  and their people (owners).
Dawn Eastman writes the Family Fortune Mystery Series. The aunt of the main sleuth is a pet psychic Haven in Michigan.
Annie Knox (aka Wendy Lyn Watson) writes the Pet Boutique Mystery Series. Izzy McHale is the owner of the Trendy Tails Pet Boutique.
T.C. LoTempio: Cat Rescue Mystery Series – Sydney McCall returns to Deer Park, North Carolina to help her sister, Kat, run the local animal shelter.
(Can you tell that I love dogs? I refer to them in the "who" not the "that"… I'm the same with cats!)
***To access more Cozy Mysteries by Theme click on this link.***