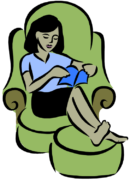 A couple of weeks ago I read a Cozy Mystery by a new-to-me author. I really enjoyed this author's writing style. However I'm not sure if I'll continue reading the rest of the Cozies in her series. I know this sounds a little like an oxymoron… I liked the book but don't want to read more…
The dilemma is this: I absolutely knew who the murderer was the minute he was introduced to the first-person sleuth narrator. The subtle clue was so absolutely obvious.
I'm still on the fence about this author/series.  I mean, since you are absolutely 100% sure who the culprit is as soon as the character is introduced, do you still stick with the author? I mean, isn't a big part of the Cozy Mystery reading enjoyment being able to watch as the sleuth finds clues? As I keep on thinking about whether or not to read the next book in the series, I'll ask you all:
If an author has a sleuth you like, writes in a style you enjoy, and has an otherwise good book, but you can figure out who the culprit is very early in the book, without naming specific authors or book titles – do you read more Cozies by this author?
Again, I will not put up posts that include specific authors and book titles. Please post a comment below. Thank you!
PS: Wow, lots of comments on this one! I think there are a few main points of view – either "I would continue if I'm enjoying the book for other reasons" and "I mostly come to mystery books for the mystery, so I wouldn't read more." I can certainly understand both views – it just depends on what you're coming to Cozies for!
Other people have mentioned that it might be worth trying another entry, since it could be a starting author's early work or just a bad example of their work.