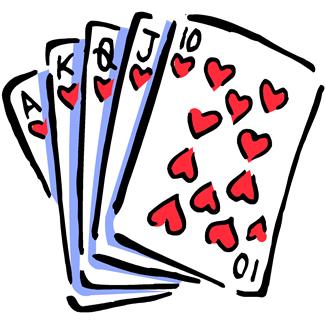 Susan* recently asked this question:
"… do you have a page for Card Game / Gambling Mysteries? I looked, but I couldn't find one, …  I've found several Poker / Bridge based mysteries."
At first I thought that I did have a Mystery Books with Cards Theme already done, but when I looked, it turns out I had the wrong type of Card in mind: Card Making Cozy Mystery theme. Still on my quest, I came up with two other possibilities: Crossword Puzzles and Bunco Mystery Books and Sudoku Mystery Books. (As Groucho Marx used to say: Close, but no cigar.)
Mystery Books with a Cards Theme (Poker, Bridge, Gambling, & Card Games Mysteries):
Jackie Chance: Poker Mystery Series
Jessie Chandler: Bingo Barge Murder (Shay O'Hanlon Caper mysteries, book #1)
Agatha Christie: Cards on the Table
Debra H. Goldstein: Carrie Martin and the Mah Jongg Players Mystery Series
Honor Hartman (aka Miranda James, Jimmie Ruth Evans, & Dean James): Bridge Club Mystery Series
Marlys Millhiser: Nobody Dies in a Casino
Gail Oust: Bunco Babes Mystery Series
Please post a comment if you know of any other mystery authors who write Poker Mysteries, Bridge Mysteries, Gambling Mysteries, or any other Card Game Mysteries.
Thanks!