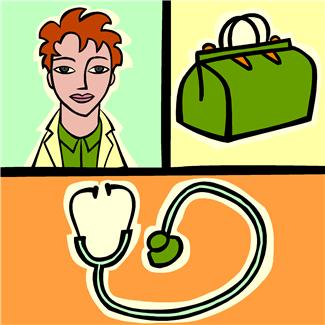 A while ago I got a few requests for a theme that would include medical sleuths. I started the list way back then, but for some reason I got side-tracked with other things. Recently someone asked for a medical mysteries theme, which I have finally gotten organized. This list includes sleuths from the Cozy Mystery site who are doctors. (The next theme I will be posting will be sleuths who are nurses and midwives, followed by sleuths who are simply in the medical field, but are not primarily nurses, midwives, or physicians.)
Here is a list of authors who are on the Cozy Mystery Site and who happen to write series which feature doctor / physician sleuths :
Jo Bannister: Clio Rees Mystery Series
J.S. Borthwick: Deane & McKenzie Mystery Series
Arthur Conan Doyle: Sherlock Holmes Mystery Series (Dr. Watson… not "main sleuth" but still very important!)
Jonathan Gash: Clare Burtonall Mystery Series
Lee Goldberg: Diagnosis Murder Mystery Series
Susanna Gregory (aka 1/2 of Simon Beaufort): Chronicles of Matthew Bartholomew Mystery Series
Tessa Harris: Dr. Thomas Silkstone Mystery Series
Robin Hathaway: Dr. Fenimore Mystery Series
Robin Hathaway: Dr. Jo Banks Mystery Series
Paula Paul (aka Paula Carter): Dr. Alexandra Gladstone Mystery Series
Caroline Roe (aka Medora Sale): Chronicles of Isaac of Girona Mystery Series
Lis Wiehl & Pete Nelson: East Salem Trilogy (Forensic Psychiatrist)
If you are interested in finding a Sleuth Who Is a Nurse or a Sleuth Who Is a Midwife, click here.
If you are interested in finding a Sleuth Who Works In the Medical Field, click here. (herbalist, apothecary, ambulance driver, medical fraud investigator, medical examiner, deputy coroner, forensic pathologist, forensic anthropologist, forensic sculptor, hospital patient representative, forensic psychiatrist, meal delivery program director, undertaker, alternative healer, naturopathic doctor)
If I have missed any other Cozy Mystery site authors who have a doctor/physician sleuth, please post a comment so that I can add the omission.
♦To access more Cozy Mysteries by Theme click on this link.♦