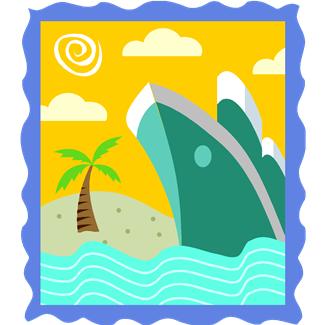 Who doesn't like a restful, yet fun, traveling experience at sea?
Thank you to both Judith and BB for providing us with this great list of Mystery Books that Take Place on Cruise Ships.
This Cozy Mystery Cruise Ship Theme includes mystery books that take place at sea:
Cathy Ace
Cait Morgan Mystery Series
The Corpse with the Diamond Hand
Ellie Alexander (aka Kate Dyer-Seeley)
Bakeshop Mystery Series
A Crime of Passion Fruit
Arleen Alleman
Darcy Farthing Mystery Series
Currents Deep and Deadly
Currents of Vengeance
Conrad Allen (aka Edward Marston & Keith Miles)
Dillman Mystery Series
Murder on the Lusitania
Murder on the Mauretania
Murder on the Minnesota
Murder on the Caronia
Murder on the Marmora
Murder on the Salsette
Murder on the Oceanic
Murder on the Celtic
Steve Allen
Steve Allen Mystery Series
Murder on the Atlantic
Marian Babson
Death Sails at Midnight
Cruise of a Death Time
Donald Bain & "Jessica Fletcher"
Murder, She Wrote Mystery Series
Murder on the QE2
Panning for Murder
The Queen's Jewels
Lorna Barrett (aka L.L. Bartlett & Lorraine Bartlett)
Booktown Mystery Series
Title Wave
K. K. Beck
Iris Cooper & Jack Clancy Mystery Series
Death in a Deck Chair
Mike Befeler
Paul Jacobson Geezer-Lit Mystery Series
Cruising in Your Eighties Is Murder
Susan Bernhardt
Kay Driscoll Mystery Series
Paradise Can Be Murder
J.S. Borthwick
Deane & McKenzie Mystery Series
Bodies of Water
My Body Lies over the Ocean
Candy Calvert
Darcy Cavanaugh Cruise Mystery Series
Dressed to Keel
Aye Do or Die
Mai Tai to Murder
Agatha Christie
Hercule Poirot Mystery Series
Death on the Nile
Carol Higgins Clark
Regan Reilly Mystery Series
Decked
Mary Higgins Clark & Carol Higgins Clark
Santa Cruise
Susan Rogers Cooper
Milt Kovak Mystery Series
Dark Waters
Susan Rogers Cooper
E. J. Pugh Mystery Series
Don't Drink the Water
Maya Corrigan
Five-Ingredient Mystery Series
S'more Murders
Kathy Cranston
Bee's Bakehouse Mystery Series
Cruises are Murder
Mary Daheim
Hillside Manor Bed & Breakfast Mystery Series
Dead Man Docking
William Doonan
Henry Grave Msytery Series
Grave Passage
Mediterranean Grave
Grave Indulgence
Carola Dunn
Daisy Dalrymple Mystery Series
To Davy Jones Below
Aaron Elkins
Alix London Mystery Series
A Cruise to Die For
"Jessica Fletcher" & Donald Bain
Murder, She Wrote Mystery Series
Murder on the QE2
Panning for Murder
The Queen's Jewels

Shelley Freydont
Lindy Haggerty Mystery Series
High Seas Murder
Jeanne Glidewell
Ripple Effect Mystery Series
Rip Your Heart Out
Kerry Greenwood
Phrynne Fisher Mystery Series
Death by Water
Carolyn Hart
Death on Demand Mystery Series
Murder Walks the Plank
Carolyn Hart
Henrie O Mystery Series
Set Sail for Murder
Sue Henry
Alaska Mystery Series
Death Takes a Passage
Cheryl Hollon
Webb's Glass Shop Mystery Series
Shattered at Sea
Maria Hudgins
Dotsy Lamb Travel Mystery Series
Death on the Aegean Queen
Maddy Hunter
Passport to Peril Mystery Series
Hula Done It?
J. A. Jance
J. P. Beaumont Mystery Series
Birds of Prey
R.T. Jordan
Polly Pepper Mystery Series
Set Sail for Murder
Sharon Kahn
Ruby, the Rabbi's Wife Mystery Series
Don't Cry for Me, Hot Pastrami
Joshua Kinser
Art Heist on the High Seas
The Cruise Ship Capers and the Missing Klimt
Mary Kruger
Gilded Age Mystery Series
No Honeymoon for Death
Rita Lakin
Gladdy Gold Mystery Series
Getting Old is the Best Revenge
Laura Levine
Jaine Austen Mystery Series
Killer Cruise
Liz Lipperman
Clueless Cook Mystery Series
Murder for the Halibut
Peter Lovesey
The False Inspector Dew
Alyssa Maxwell
Lady and Lady's Maid Mystery Series
A Murderous Marriage
G.A. McKevett
Savannah Reid Mystery Series
Every Body on Deck
Marie Moore
Sydney March Mystery Series
Shore Excursion
Joanne Pence
Angie Amalfi Mystery Series
Cooks Overboard
Elliott Roosevelt
Eleanor Roosevelt Mystery Series
First Class Murder
June Shaw
Cealie Gunther Mystery Series
Deadly Reunion
Elizabeth Daniels Squire
Peaches Dann Mystery Series
Where's There's a Will
Susan Sussman & Sarajane Avidon
Morgan Taylor Mystery Series
Cruising for Murder
Denise Swanson
Scumble River Mystery Series
Murder of a Needled Knitter
Marcia Talley
Hannah Ives Mystery Series
Dark Passage
Stella Whitelaw
Casey Jones Mystery Series
Second Sitting
Dead Slow Ahead
A Wide Berth
♦To access more Cozy Mysteries by Theme click on this link.♦