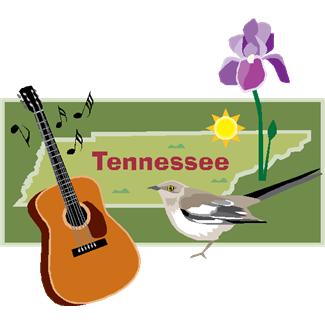 Here are some fun Tennessee facts:
The capital is Nashville.
The largest city Memphis.
State motto is "Agriculture and Commerce"
State nickname is The Volunteer State.
State flower is the Iris.
State bird is the Mockingbird.
State animal is the Raccoon.
Mystery authors who are found on the Cozy Mystery Site who feature Tennessee locations in their books:
Deborah Adams: Jesus Creek Mystery Series: Jesus Creek, a small town in Tennessee, is the setting for this very unique series. Each book features a different character as the sleuth.
Riley Adams (aka Elizabeth Spann Craig): Memphis BBQ Mystery Series: Lulu Taylor is the main sleuth and owner of a barbeque restaurant in Memphis, Tennessee.
Jenna Bennett (aka Jennie Bentley & Bente Gallagher): Cutthroat Business Mystery Series OR Savannah Martin Real Estate Mystery Series: Savannah is a divorced, southern belle who is now working as a realtor (and sleuth!) in Nashville. AND Fidelity Investigations Mystery Series: Gina, the sleuth, lives in Nashville, Tennessee.
Virginia Brown: Blue Suede Memphis Mystery Series: Harley Jean is a Memphis tour guide/sleuth.
V.M. Burns: Lilly Echosby Dog Club Mystery Series – Lilly is a recently divorced CPA who is a member of a dog club in Tennessee.
J. J. Cook (aka Joyce and Jim Lavene): Sweet Pepper Fire Brigade Mystery Series: Stella Griffin is the sleuth and current fire chief. Stella gets a lot of help from the ex-fire chief, Eric Gamlyn, who happens to be deceased!
Vickie Fee: Liv and Di in Dixie Mystery Series: Liv McKay, a party planner, and Di Souther, her best friend, live and solve crimes in the fictional town of Dixie, Tennessee.
Christy Tillery French: Natasha Chamberlain Mystery Series: Natasha is a bodyguard who works for Jonce Striker (the owner of the bodyguard company) in Knoxville, Tennessee.
Susan Furlong: Bone Gap Travellers Mystery Series – Brynn is an ex-Marine who returns to Tennessee with her cadaver dog, Wilco.
Jackie Griffey: Maryvale Mystery Series: Cas Larkin is the sheriff of this town in Tennessee AND Maggie & Joe Cozy Mystery Series: Maggie Murphy is a columnist/sleuth.
Diane Kelly writes the House-Flipper Mystery Series which stars Whitney Whitaker, a house flipper in Nashville. Oh, and also, it stars Sawdust, her cat.
Joyce and Jim Lavene (aka J.J. Cook & Ellie Grant): Taxi for the Dead Paranormal Mystery Series: Police officer Skye Mertz makes a deal with Abe to drive Abe's Taxi for the Dead so that she can be saved from dying.
Meg London (aka Peg Cochran): Sweet Nothings Vintage Lingerie Series: Emma Taylor has returned home to Paris, Tennessee from New York City.
Molly MacRae:  Haunted Yarn Shop Mystery Series: Kath Rutledge is the owner of a wool shop that has, as its tenant, a ghost.
Mystery and the Minister's Wife Mystery Series: This series follows Kate and Paul Hanlon (a minister and his wife) in Copper Mill, Tennessee. Several authors pen this mystery series.
Delia Rosen: Deadly Deli Mystery Series: Gwen Silver (aka Nashville Katz) is the owner of a Nashville Jewish deli, and also a sleuth.
Mary Saums: Willi Taft Mystery Series: Willi is not only a private investigator, but a Nashville singing sleuth as well.
Please feel free to comment if you see an author from the Cozy Mystery Site who belongs on this list, or if you have any corrections.
♦To access more Cozy Mysteries by Theme click on this link.♦