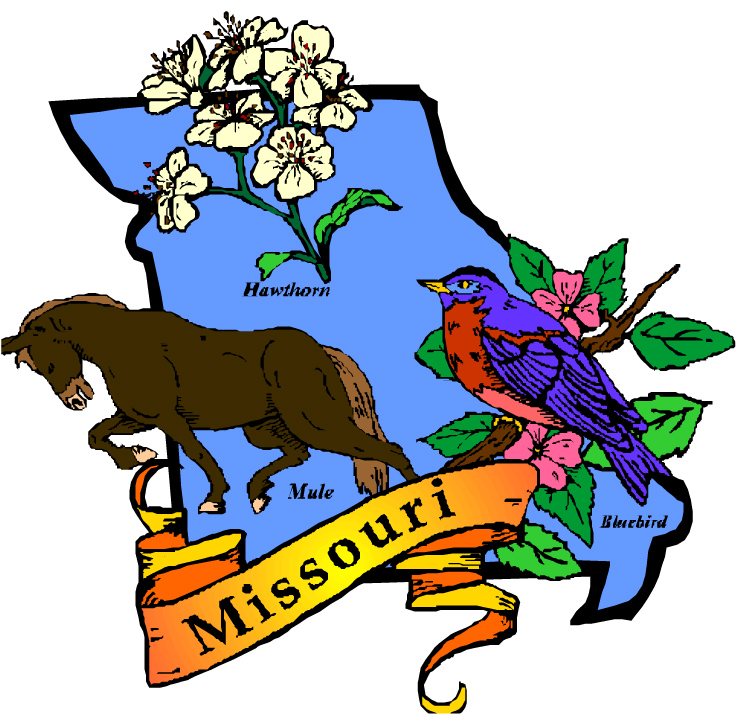 Here are some fun Missouri facts:
The capital is Jefferson City.
The largest city is Kansas City.
State motto is "The welfare of the people shall be the supreme law"
State nickname is the Show Me State .
State flower is the White Hawthorn.
State bird is the Bluebird.
State animal is the Missori Mule.
Missouri (as well as Tennessee) is bordered by eight states.
Mystery authors who are found on the Cozy Mystery Site who feature Missouri locations in their books:
Hannah Alexander: Hideaway Mystery Series
Jean Hager: Iris House Bed & Breakfast Mystery Series
Janis Harrison: Bretta Solomon Gardening Mystery Series
Shirley Kennett: P J Gray Mystery Series
Suzann Ledbetter: Hannah Garvey Mystery Series
Rett MacPherson: Torie O'Shea Mystery Series
Christine Matthews & Robert J. Randisi: Gil & Claire Hunt Mystery Series
Linda Rodriguez: Skeet Bannion Mystery Series
Paige Shelton: Country Cooking School Mystery Series
Joanna Campbell Slan: Kiki Lowenstein Scrap-N-Craft Mystery Series
Lou Jane Temple: Heaven Lee Mystery Series
Elaine Viets: Mystery Shopper Mystery Series, Death Investigator Mystery Series, AND Francesca Vierling Mystery Series
Vineyard Quilt Mystery Series: Several authors write this series.
Please feel free to comment if you see an author from the Cozy Mystery Site who belongs on this list, or if you have any corrections.
♦To access more Cozy Mysteries by Theme click on this link.♦