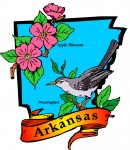 Here are some fun Arkansas facts:
The largest city and capital is Little Rock.
State motto is "The People Rule"
State nickname is The Natural State.
State flower is the Apple Blossom.
State bird is the Mockingbird.
State animal is the White-tailed deer.
Official state beverage is milk.
Mystery authors who are found on the Cozy Mystery Site who feature Arkansas locations in their books:
Nancy Haddock: Silver Six Crafty Mystery Series: Sherry Mae Stanton and her Silver Six are retirees with a fondness for crafts and solving crimes.
Charlaine Harris: Lily Bard (Shakespeare) Mystery Series: Lily is a house cleaner/sleuth… AND Harper Connelly Mystery Series: Harper was hit by lightning and can now find dead bodies.
Joan Hess: Arly Hanks (Maggody) Mystery Series: Arly is the police chief AND Claire Malloy Mystery Series: Claire owns a small bookstore in a college town.
Donna Lynd: Gran and Bass Olson Mystery Series: Gran and Bass become private investigators in order to do their sleuthing.
K. D. McCrite: Eastgate Mystery Series: Carrie Jean Lockwood is an Assistant Pastor in Arkansas.
Radine Trees Nehring:  Something to Die For Mystery Series: Carrie McCrite & Henry King are senior citizens who sleuth around.
Please feel free to comment if you see an author from the Cozy Mystery Site who belongs on this list, or if you have any corrections.
♦To access more Cozy Mysteries by Theme click on this link.♦