Just yesterday, Mary Joy wrote a comment with this question:
Mary Joy:
"Does anyone find they do not enjoy the books in series that go "off site" for that particular story? In all the series I read, I never enjoy the ones that take place on vacation or in a foreign country, etc. Instead of being more interesting for me, I usually end up skimming lots of pages. I think I enjoy the familiar surroundings and reading about their everyday routines. I sound dull, don't I? Is it just me – do others out there enjoy the change of venue?"
Mary Joy, I will say, "No, No" to the two questions you posed (you don't sound dull and it isn't just you), and "Yes, Yes, Yes" in agreement with her sentiment. (Obviously, this doesn't apply to series that feature touring/traveling of some sort.)
I do NOT like it when my main sleuth leaves her town to go on holiday. Yes, I know that everyone deserves a little vacation now and then, but I'd rather my main sleuths take their vacations while "on hiatus" (between books). I want my main sleuths back in their familiar town/village (which has become "my" familiar town/village) – with their familiar friends and the eccentric busybodies.
I would much prefer hearing about their vacation in the past tense, perhaps when my main sleuth is having her/his morning cup of coffee (or cuppa) while telling her/his friends about all the fun things (i.e. murders, no doubt!) she/he encountered while on vacation. (And, by this, I don't mean an "I-remember-when" retro mystery book that takes place in another location.)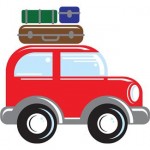 So, I guess I should pose a new question: Is it just us (Mary Joy and me) – do others out there enjoy the change of venue?"
PS>>> I just remembered I wrote an entry about this very same thing about a year ago. (I searched for it, and found it: Cozy Mystery Sleuths Who Leave Their Cozy Towns, Villages, "Worlds"…)