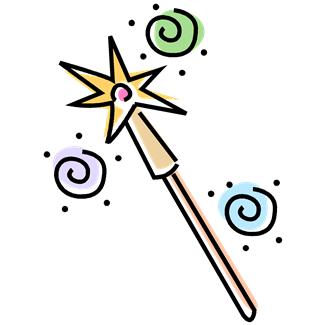 When I first put up the other four paranormal themes, I had no idea I would be adding this theme. Some of our favorite authors are now writing mysteries with themes that are Enchanted, Magical, and Charmed.
This list doesn't include the following Paranormal Cozy Mystery themes: Ghost, Psychic / 6th Sense, Vampire and Werewolf, and Witch (which I've already listed on the Theme page.) This theme is a catch-all for those who don't fit in these other lists.
Mystery Books with Enchanted, Magical, and Charmed themes:
Allyson K. Abbott (aka Annelise Ryan & Beth Amos): Mack's Bar Mystery Series
Ellery Adams (aka Jennifer Stanley, J. B. Stanley, & 1/2 of Lucy Arlington): Charmed Pie Shoppe Mystery Series
Annette Blair: Vintage Magic Mystery Series
Heather Blake (aka Heather Webber): Wishcraft Mystery Series
Melissa Bourbon (aka Misa Ramirez): Magical Dressmaking Mystery Series
Bailey Cates (aka Bailey Cattrell & Cricket McRae): Magical Bakery Mystery Series
Bailey Cattrell (aka Bailey Cates & Cricket McRae): Enchanted Garden Mystery Series
Carole Nelson Douglas: Midnight Louie & Temple Barr Mystery Series
Amanda Flower (aka Isabella Alan): Magical Bookshop Mystery Series
Yasmine Galeron (aka India Ink): Whisper Hollow Mystery Series (shaman)
Carolyn Hart: Nela Farley Mystery Series
Christine Husom: Snow Globe Shop Mystery Series
Tonya Kappes: Magical Cures Mystery Series
Sofie Kelly (aka Sofie Ryan): Magical Cats Mystery Series
Shirley Rousseau Murphy: Joe Grey Cat Mystery Series
Hannah Reed (aka Deb Baker): Queen Bee Mystery Series
Sofie Ryan (aka Sofie Kelly): Second Chance Cat Mystery Series
Connie Shelton: Samantha Sweet Mystery Series
Clea Simon: Dulcie Schwartz Mystery Series
Heather Webber (aka Heather Blake): Lucy Valentine Mystery Series
Please feel free to post a comment if you know of any other mystery authors (who are currently on the Cozy Mystery site) who you think write mysteries that would fit into this Magical, Charmed, and Enchanted Theme. Thanks!
♦To access more Cozy Mysteries by Theme click on this link.♦