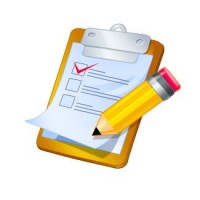 In my last post, I discussed Knox's Commandments, a set of "fair play" rules that were written in the late 1920s and helped form much of the "golden era" of Cozy Mystery writing (then considered detective fiction). This time I'm going to go through some of the rules I think still retain relevance today and are worth discussing. Obviously, some of them have basically been discarded by the sands of time. (Again, I'm sorry that the rules are dated, and that some of them are phrased in a way that makes them uncomfortable to modern sensibilities.)
Rule 1 – "The criminal must be someone mentioned in the early part of the story, but must not be anyone whose thoughts the reader has been allowed to follow."
As with most of the "rules", this is one that's been broken before, occasionally to good effect. It's still not generally recommended for less experienced authors since pulling it off without feeling unfair is quite difficult, but I wrote an earlier blog about authors such as Agatha Christie who were able to make it work.
Rule 2 – "All supernatural or preternatural agencies are ruled out as a matter of course."
Of Knox's Commandments, this is perhaps the rule most thoroughly discarded in modern Cozy Mysteries. Especially in recent years, there has been an increase in paranormal or supernaturally themed Cozies where criminal and detective alike have some sort of supernatural hook such as witchcraft or mild psychic powers. Simply summarily solving the crime through magic should probably still be avoided – just saying "the detective casts a spell and now knows who committed the crime" still shouldn't happen.
Rule 4 – "No hitherto undiscovered poisons may be used, nor any appliance which will need a long scientific explanation at the end."
By "undiscovered", Knox means that the poison should be known to medical science, and if at all possible detectable by autopsy. I think this rule should be considered a good one – if the authorities bother to look carefully for a cause of death, an autopsy or similar test shouldn't come back inconclusive. That said, poisons that make a murder look like something else to casual observation are still fair play, so long as the eventual cause of death can be determined to be murder in the end.
Rule 6 – "No accident must ever help the detective, nor must he ever have an unaccountable intuition which proves to be right."
Knox clarifies that this isn't intended to mean that the detective can't have a flash of intuition where previously observed evidence suddenly makes the solution clear to him, but rather that he shouldn't be able to, in Knox's words, "to look for the lost will in the works of the grandfather clock because an unaccountable instinct tells him that that is the right place to search." If the detective comes across the hidden will through hard work and dedication, such as by searching the entire house from top to bottom, that's fine. This rule can sometimes be broken, especially if the detective is associated with the paranormal. For more mundane detectives, it should generally remain intact.
Rule 7 – "The detective must not himself commit the crime."
I'd say this is an important rule, both today and when it was first written. It hardly seems fair for the detective to gather together all the suspects and then declare that it was in fact… himself! Knox also points out that this is only a solid rule when the author vouches for the character as a detective – a criminal posing as a police officer is still fair, especially if some reason to doubt their identity is introduced.
Rule 8 – "The detective must not light on any clues which are not instantly produced for the inspection of the reader."
This rule has been broken before and will be broken again, but I personally think it's unfair. If the crucial piece of evidence isn't visible to the audience, it feels like the author is cheating and that the mystery simply isn't solvable for the audience.
Rule 9 – "The stupid friend of the detective, the Watson, must not conceal any thoughts which pass through his mind; his intelligence must be slightly, but very slightly, below that of the average reader."
Knox also points out that this rule only applies if there is a "Watson". I think this is a good rule to aim for, but harder to hit – writing an assistant as slightly below average intelligence is a tough goal for many authors.
Yikes! That sure was a lot of rules! It is a bit surprising how well many of the rules hold up – I guess what was fair to the reader when they were first written in the 1920s can still be generally considered fair today!
Which of the rules do you think are the most abused today? Do you think some of the rules I see as discarded haven't been? What is your opinion about Knox's (10) Commandments in today's Cozy Mysteries? Are there other rules you think should be substituted for these? (For instance, I would suggest a rule where the sleuth doesn't always fall into peril as part of the plot of every book in the series.)
Knox's Commandments – The 10 Rules of Golden Age Detective Fiction, Part 1