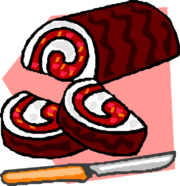 Yikes! Some of the culinary-themed Cozy Mysteries I read are trying very hard to throw me off the dieting wagon!
My husband and I put on a "little" weight over the holidays – as we usually do. Every year we vow we won't "let that happen again" >>> but every year, it does.
Some of you may be thinking "How much weight can they possibly gain over 'the holidays'? Let's face it, 'the holidays' means two or three weeks…"
Not so for us! "The holidays" start some time in October for us. Yep! We look at Halloween as the beginning of "the holiday" season. About as soon as the stores start putting up their Halloween treats (well, not really >>> since that now means early September!) we start making excuses to buy our favorite treats. Unfortunately, we have different preferences which means we have to buy two treats instead of just one. This doesn't mean we only partake of our individual prefered treats…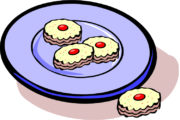 So, we are now trying to shed those unwanted pounds from "the holidays". Right now I am trying to (sort of) avoid reading culinary Cozies. As much as I enjoy reading how Goldy Bear (Diane Mott Davidson) plans on catering her next big event or what type of cookies Hannah Swensen (Joanne Fluke) has put in her gift cookie bags >>> I am just going to have to remain strong >>> at least for now.
How about you? >>> Do you find yourself trying to avoid Cozy mysteries with a strong food-related theme just because they make it hard for you to stick to your diet?