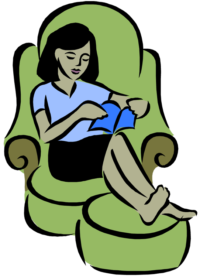 Shame on me! Here I've had a Cozy Mystery site devoted (as in absolutely, totally devoted!) to Cozy Mystery authors' series listed chronologically since 2006, and I accidentally skipped a Cozy by one of my very favorite authors!!!
As a lot of you who have been with me for years know, I'm a firm believer of reading a Cozy Mystery series in its chronological order. I like "growing with the characters." The regular characters in the books become "friends" to me, and I look forward to spending time with them. I like catching up with them and finding out what they have been up to since they last solved a crime.
Also some of you know that I follow Edie Claire's Leigh Koslow Never Mystery Series. I have "known" Leigh since she was single, and watched as she matured to the "woman she is today".
My (grown) daughter and I were talking (no, she's still in Washington, DC – these days I have to rely on our cell phones) last week when I told her that I had just finished the latest Leigh Koslow mystery. (My daughter reads only a very few Cozy series – of which this is one.) She knows how I only read holiday Cozies during their corresponding holidays – so she seemed surprised. She went on to tell me that she enjoyed that last Christmas Cozy.
I kept trying to place this Christmas Cozy – and had my daughter describe the book to me – without giving me too many details. I didn't recognize any of the details and quickly stopped her. Yikes! I had actually inadvertently read book #11 (Never Murder a Birder) – skipping book #10 (Never Mess with Mistletoe). Perhaps I had decided to wait until Christmas to read it and then somehow forgot I had it…
So, here's my question: Have you ever accidentally skipped a book in one of your favorite Cozy Mystery Series? And, if so, did it affect the next book in that series that you read? How did you find out that you had missed an entry? I mean, have you ever read a book in one of your very favorite series out of order and then when you went back to read the previous book, did it seem out of sequence? (I don't think I'm explaining this very well…) Please post a comment to let us know. Thanks!