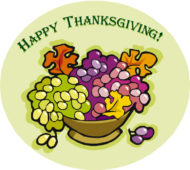 Happy Thanksgiving to all!
This year I went directly from reading a Halloween Cozy to a Christmas Cozy. That's right, I skipped Thanksgiving. (Well, actually I am planning on reading several of the Thanksgiving stories from a few of The Killer Wore Cranberry anthologies I have bought, but I almost couldn't help myself jump right into Christmas Cozies.)
Why? – you may be wondering. I have five possible reasons:
I saw my first Christmas advertisement on TV before Halloween.
There are fewer Thanksgiving Cozies available than Christmas Cozies.
I've been watching the Hallmark Christmas movies for almost a month.
It's unusually warm here in San Antonio.
All the stores have had their Christmas items displayed for weeks.
How about you? What types of Cozies are you reading right now? Are you still reading a Halloween Cozy or are you reading a Thanksgiving Cozy? Are you like me – and are already into your Christmas Cozies? Of course, there's always a chance that you're reading a non-holiday cozy…
P.S. Here is the list I've compiled of  Thanksgiving mysteries, here's the Christmas list (which is so long that there are several pages of them!), and for those of you still interested in Halloween mysteries, here's the Halloween mystery book list.