I just added two Cozy Mystery series to the site which both happen to come from Guideposts.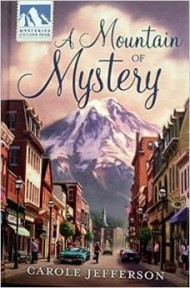 Mysteries of Silver Peak Mystery Series This series is written by Carole Jefferson. Sadie Speers is the sleuth in this series, and she owns the Antique Mine antiques shop in Silver Peak, Colorado. Silver Peak is a quaint little town that used to be a mining town. Sadie likes to provide background research with the antiques she sells in her shop. Sometimes the histories of the antique items have mysteries associated with them, which Sadie then, after switching into her sleuthing mode, solves! (A Mountain of Mystery is the first in the Mysteries of Silver Peak Mystery Series.)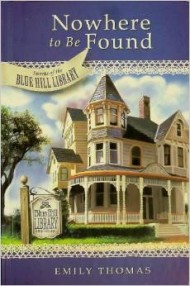 Secrets of Blue Hill Library Mystery Series This series is written by Emily Thomas. The sleuth, Anne Gibson, is converting the old Victorian house her great-aunt Edie left to her. The house is destined to become the town's library, just as her Aunt Edie had requested. Anne is a young mother of a nine-year old boy and she has been left widowed. In the first Cozy Mystery of the series Anne finds a hidden room while she is converting the Victorian into a library. (Nowhere to Be Found is the first in the Secrets of Blue Hill Library Mystery Series.)
Guideposts is a company that specializes in "Inspiration. Faith. Hope." Over the years I have heard from Cozy Mystery readers who enjoy these series a lot. I have several Guideposts mystery series on my site: Church Choir Mysteries Series, Miracles of Marble Cove Mystery Series, Mysteries of Silver Peak Series, Mysteries of Sparrow Island Series, Mystery and the Minister's Wife Series, Patchwork Mystery Series, Secrets of Blue Hill Library Mystery Series, and Secrets of Mary's Bookshop Mystery Series. I also have a few of the Guideposts non mystery series on the site: Home to Heather Creek Series, Stories from Hope Haven Series, and Tales from Grace Chapel Inn. This past week I was trying to come up with a way to list all of the Guideposts series (both their mysteries as well as their non mystery series) and I decided to go ahead and make a Guideposts page that has all of the different series listed, with links to their corresponding pages on the site.
Guideposts Mystery Series (and Non Mystery Series)
Thank you, Barb E.! Barb and I have sort of become Cozy Mystery reader pen-pals, although I have to admit that Barb is much better than I am about keeping in touch! Because of Barb, I have been able to find out about new Cozy Mystery series that come from mail-order clubs. Many of which I have listed on my No Swearing/No Profanity Cozy Mystery list.
Last month, Barb sent me a list of lots of Cozy Mysteries from Guideposts. Not only did she give me the titles and authors of some of the books I was missing from these mail-order Cozy Mystery series, but she also told me about the above two Guideposts series.
Again, Barb E, thank you for all of your help!