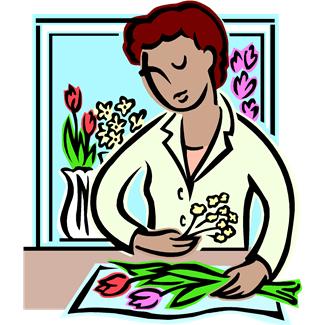 Since I just added a new "crop" of authors, one of whom has a sleuth who is a florist, I decided there wouldn't be a better time to add this new theme to the Cozy Mystery site. Here are the authors who are already posted on the Cozy Mystery site who write series which have either a flower farm worker, a florist, or a flower shop owner as their sleuths.
Beverly Allen (aka Barbara Early) writes the Bridal Bouquet Shop Mystery Series. This series takes place in Virginia and features Audrey Bloom as our sleuth. Audrey co-owns the Rose in Bloom flower shop.
Kate Collins pens the Flower Shop Mystery Series. So, law school wasn't for our sleuth, Abby Knight. Good thing Abby has decided to open Bloomers, a flower shop in Indiana. Abby is able to arrange the clues as well as she arranges her flowers.
Amanda Flower (aka Isabella Alan): Magic Garden Mystery Series – Fiona is a florist who is from the USA.
Joan Hadley (aka Joan Hess) writes the Theo Bloomer Mystery Series, which features a florist. Theo's previous life included a stint as a CIA spy.
Janis Harrison brings us her Bretta Solomon Gardening Mystery Series. Bretta is a widow who has a flower business in Missouri. As a new widow, she has taken up sleuthing.
Vicki Lane pens the Elizabeth Goodweather Mystery Series. Elizabeth (a widow) own a farm in North Carolina's Appalachians. The farm grows both flowers and herbs. 
Rebecca Tope writes the Lake District Mystery Series. This series takes place in the lake district region of England. Persimmon "Simmy" Brown owns a flower shop and sleuths between arranging her flowers into beautiful arrangements.
In the same vein, here is my Gardening Cozy Mysteries entry.
***To access more Cozy Mysteries by Theme click on this link.***