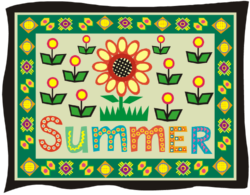 Wow, it feels like it's already summer down here in San Antonio! But at the same time >>> the year seems to be going so quickly that I can't believe summer's almost here! Whenever the weather starts getting hot (and here in Texas it gets pretty doggone hot pretty quickly), I'm sure to start thinking about reading summer-themed Cozies.
I was thinking maybe we could compile a list of our ultra favorite Summer Cozy Mysteries.
As you all might be aware, we do already have a Summer Cozy Mystery Theme page. So what I'm talking about isn't necessarily just every possible summer themed Cozy Mystery you can think up >>> that's what the theme page is for after all! Instead I'm just looking for a short number of your "personal favorites" so to speak, so just one pick (or maybe two or three) would be great! And yes, considering that all three are squarely within the summer time frame, some of your favorite Fourth of July Mystery Cozies, Father's Day Mystery Cozies, and Labor Day Mystery Cozies would definitely be appropriate recommendations! (Of course, feel free to recommend Cozies that aren't already on those lists!)
I'll put up a few quick recommendations of my own, just to get things started. Please leave a comment to add your favorites.
FAVORITE SUMMER COZY MYSTERIES:
Donald Bain & "Jessica Fletcher": Murder on Parade (I couldn't stop myself and read this holiday Cozy out of chronological order!)
Donna Andrews: Some Like It Hawk
Susan Bernhardt: Murder by Fireworks
Nancy Coco (aka Nancy J. Parra): Oh Say Can You Fudge
Cleo Coyle (aka Alice Kimberly): Murder Most Frothy
Isis Crawford (akaBarbara Block): A Catered Fourth of July
Kathi Daley: Bikinis in Paradise
Joanne Fluke: Lemon Meringue Pie Murder 
Shelley Freydont: Independence Slay
Victoria Hamilton (aka Amanda Cooper & Donna Lea Simpson): Bowled Over
Lee Harris: 
Leslie Meier: Tippy Toe Murder
P.S. If you want to see a whole bunch of Cozy Mystery themes, visit the Cozy Mysteries by Themes page on my site. But, if you're only interested in Cozies with holiday themes, visit the Holiday Mystery Book List page on my site.