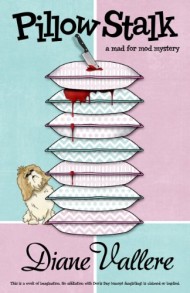 Recently I posted a blog about some of our favorite cats featured in Cozy Mysteries, and I thought it would only be fair to give the same treatment to our other four-legged friends, dogs. Naturally, we've already got a Dog Themed Mysteries List, but here I'm hoping to be both more selective and less in a way – more selective because we're only talking about our favorites, and less because we can talk about dogs that aren't necessarily the stars of the show, so to speak, but instead favorite side characters.
To get the ball rolling, I'm going to say one of my current personal favorites >>> Rocky, the adorable Shih Tzu from Diane Vallere's Mad for Mod Mystery Series. Rocky is named after one of his owner's favorite actors, Rock Hudson. (Some of you know that I'm mad for Doris Day/Rock Hudson movies!) Though only a minor character of the series, he helps bring a charm and life to his owner's time away from murder and intrigue, helping give the series a much more real feeling while also amusing us with his adorable antics.
So, what are some of your favorite dogs in Cozy mysteries? Let me know in the comments below, so I can start up a list of our most favorite canine crime-solving companions!
Here's a list of our favorite Dogs in Cozy Mystery Series:
Victoria Abbot: Book Collectors Mystery Series: Walter & Cobain
Ellery Adams: Books by the Bay mysteries: Captain Haviland
Isabella Alan (aka Amanda Flower): Amish Quilt Shop mysteries: Oliver
Barbara Allan: Trash 'n' Treasure mysteries: Sushi
Donna Andrews: Meg Langslow mysteries: Spike
Donna Ball: Raine Stockton mysteries: Cisco
Laurien Berenson: Melanie Travis: Faith and Hope
Heather Blake (aka Heather Webber): Wishcraft mysteries: Missy
Emily Brightwell: Mrs. Jeffries mysteries: Fred
Rita Mae Brown: Mrs. Murphy Mystery Series: Tee Tucker
Rita Mae Brown: Fox Hunting mysteries: Diana
Leslie Budewitz: Seattle Spice Shop mysteries: Arf
Laura Childs: Tea Shop mysteries: Earl Grey
Laura Childs: Scrapbooking mysteries: Boo and Poobah
Margaret Coel: Wind River mysteries: Walks On Three Legs
Krista Davis: Domestic Diva mysteries: Daisy
Krista Davis: Paws and Claws mysteries: Trixie
Janet Evanovich: Stephanie Plum mysteries: Bob
Carolyn Haines: Sarah Booth Delaney mysteries: Chablis
Dashiell Hammett: Thin Man mysteries: Asta
Linda O'Johnston: Pet Rescue mysteries: Zoey
Annie Knox (aka Wendy Lyn Watson): Pet Boutique mysteries: Packer
Amanda Lee (aka Gayle Trent): Embroidery mysteries: Angus O'Ruff
Virginia Lowell: Cookie Cutter Shop mysteries: Spunky
Judi McCoy: Dog Walker mysteries: Rudy
Laura Morrigan: Call of the Wilde mysteries: Moss
Leigh Perry (aka Toni L.P. Kelner): Family Skeleton mysteries: Byron
Spencer Quinn (aka Peter Abrahams): Chet and Bernie mysteries: Chet
Maggie Sefton: Knitting mysteries: Carl
Karen Rose Smith: Caprice DeLuca mysteries: Lady
Diane Vallere: Mad for Mod mysteries: Rocky
Tracy Weber: Downward Dog mysteries: Bella
♦To access more Cozy Mysteries by Theme click on this link.♦