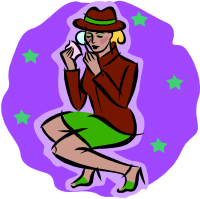 Patti B. sent me an email with the following entry idea:
… I was wondering if you've ever written a blog on the preferred age of protagonists in cozies. I loved Ann George's southern sisters series, just wish she'd lived longer so she could have kept on writing them. I love M.C. Beaton's Agatha Raisin. I obviously love senior sleuths. Yesterday I had lunch with a friend who said she hated senior sleuths. She found them boring and didn't know anyone who liked them… and I began to wonder—am I the only one who likes senior sleuths? (Obviously not since M.C. Beaton is making big bucks writing her books!) But I was wondering if the cozy readers who follow your blog have an opinion on this.  Do you yourself, since you're an avid cozy reader?
I started thinking about it the day I received Patti B's email. Hmmm… Do I have a prefered age for my amateur sleuths?
I went through all of my favorite authors and thought about their sleuths' ages. Wow! What a span of years!
I read one particular series that has sleuths from three age groups. And, after looking at all of my favorite authors' sleuths, I think I can safely say I don't have a particular age bracket that I strictly adhere to.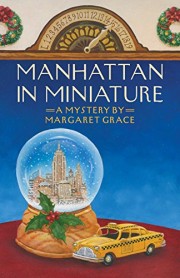 One of my favorite authors is Margaret Grace (aka Camille Minichino & Jean Flowers).  She writes the Miniature Mystery Series which features Gerry Porter as its main sleuth. Gerry is a retired English teacher in California who has, as her side-kick sleuthing partner, her granddaughter, Maddie. Maddie is an eleven year old whiz on the computer, which helps Gerry immensely. Another (sort of) sleuthing partner of Gerry's is her nephew, a thirty something police detective. So, with just that one series, I have the very youngest sleuth I follow, a young adult aged sleuth, and a (somewhat) older sleuth.
I have to admit, while I enjoy sleuths of all ages, I find myself drawn to senior sleuths. I have enjoyed senior sleuths for as long as I can remember. I wonder if it's because Agatha Christie's Miss Marple has been one of my very, very favorite amateur sleuths for years >>> going back to when I was quite young, I loved Miss Marple. No other sleuth could draw me into her world the way this clever, gray-haired lady could!
How about you? Do you have a favorite age for your amatuer sleuths? If so, why do you think you prefer that age bracket?
P.S. In case you do prefer senior sleuths, Susan* just suggested that I add these links to the Senior Sleuths lists.
SENIOR SLEUTHS:
In case you prefer young sleuths:
Mystery Books with Sleuths in Their 20s
And, here is a list of sleuths who are a little older than 20 and not quite yet seniors:
Stay-at-Home Moms &/or Housewives AND Stay at Home Dads &/or Househusbands in Mysteries