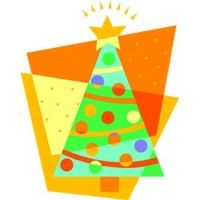 (***I know this is a mystery blog. I will get back to the mystery side of it soon.***)
One of the activities I enjoy each Christmas season is decorating our home. While I miss our son's and daughter's help positioning each ornament on the tree, in a way, I feel like they are still with me decorating the tree. My husband and I have replaced our full-branched artificial Christmas tree with a thin but tall artificial tree that takes many fewer ornaments.
When we switched to a skinny (almost anorexic!) tree, I decided to limit the ornaments to just those to which we have sentimental attachments. So, gone are our shiny store-bought baubles. Instead, we have ornaments lovingly made by our son and daughter. Some of these decorations go back to a time when their little hands were barely able to manipulate the safety scissors or hold the glue sticks.
As I unwrap each of these priceless ornaments (including a toilet paper tube little drummer boy!) I am taken right back to those days. It's funny, I remember wondering why those elementary school teachers thought we'd want toilet paper roll tubes hanging on our Christmas trees for may future years. And yet, now every year as I pack them away I treat them like precious family heirlooms.
OK, enough of my sentimental journey! To get back to the point of this blog entry!
I mentioned a tip a few years ago for families with young children. Please bear with me as I repeat it:
When my children were young, my son's very favorite toys of all time were his Transformers. My daughter loved her tiny Sesame Street characters and, itty, bitty My Little Ponies and dolls. As they both got a little older and stopped playing with these small toys, I had the idea to save some of their beloved toys by turning them into small Christmas ornaments using festive holiday ribbons to attach them to the tree.
So now, amongst our third grade pipe cleaner-with-red-and-white Pony bead candy canes, and our fifth grade sequined styrofoam pin-cushion ornaments, we have tiny Transformers and itty, bitty My Little Ponies. All of these things make our Christmas tree special to us.
How about you? Do you have any holiday decorating tips? If you do, please share them with us by posting a comment below. Thank you!