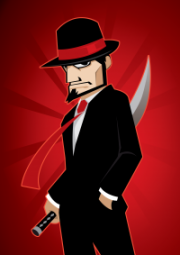 Two days ago, Linda S asked for help (on behalf of herself and her mom) in identifying the following Cozy Mystery:
… One quick question…we both enjoyed a series where the young woman lived with her three "retired from the mob" uncles that was, I believe, set in Chicago. We haven't read one in a while and, unfortunately, neither one of us can remember who wrote the books. Is that, by any chance, enough info for you to identify the author? I looked through your list by themes but nothing jumped out at me. Between the two of us, we have literally read hundreds of cozies & after a while, it's difficult to remember "who's on first" when it comes to specifics.

I appreciate your thoughts on that particular author. If she doesn't sound familiar, I will continue to look.

Thank you …
Linda S, the Cozy Mystery readers who frequent this area usually can come up with the authors other Cozy Mystery readers are looking for.
So, to ALL of you Cozy Mystery readers, if any of you know who Linda S could be referring to, would you please post a comment? Thank you!