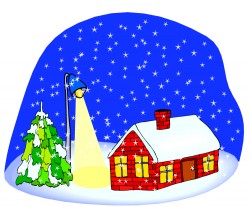 I have talked before about one of the reasons I enjoy reading seasonal Cozy Mysteries. Before we moved down to San Antonio, I don't think it was quite as important to me. However, since we don't really see the four seasons down here, I especially like Cozies that remind me of the seasons I miss. These are Cozies that are set in cold-weather locations as well as Cozy Mysteries that take place during crisp autumn days when the gold/orange/red leaves are shedding from the trees.
That said, I have to admit that I have a preference for Cozy Mysteries that take place in the northeast part of the USA, the northern states, or Great Britain. These areas provide me with the cold, blistery weather of winter and the cool, sometimes windy weather of autumn. Also, it just seems easier for me to imagine a Cozy village setting in Great Britain or New England.
My husband and I were talking about the importance of location in my Cozies when he asked me if I would read Cozies set here in San Antonio. I replied that the San Antonio locations wouldn't draw me to those books since I am already familiar with the area. However, I know a lot of Cozy Mystery readers read Cozies that are set in their towns or geographical areas and seem to enjoy reading about familiar places.
How about you? Do you have a location that attracts you to your Cozy Mystery books? Is the location something you look for when you choose a new Cozy series? Are there locations you avoid when choosing a Cozy?