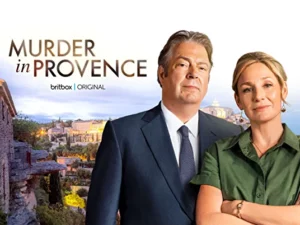 Murder in Provence is another terrific Cozy Mystery television series. The series is being broadcast on BritBox, and stars Endeavor's Roger Allam and Father Brown's Nancy Carroll. They are terrific together – he's a sort of investigating judge (Chief Magistrate) and she's a police consultant. They are partners – both in solving crimes and in love. Keala Settle stars as a detective, and Rumpole of the Bailey's Phyllida Erskine-Brown as Carroll's very opinionated mom. All of them are terrific!
This is another series with beautiful scenery. We get to enjoy "city architecture" and lovely countryside. I enjoyed both the plots and writing, and am already awaiting the second season.
Some people may object to very-British actors with very-British accents playing very-French characters. That does not bother me at all. (Murder in Provence is, after all, a fictitious television mystery show, not a documentary!) Another thing that I can overlook is some of the language… The mystery plots unfold at a leisurely, enjoyable pace, with two over-fifty sleuths. As I said it's a Cozy Mystery Series.
Murder in Provence is based on the Verlague and Bonnet Provencal Mystery Series by M.L. Longworth. The first book in that series is Death at the Chateau Bremont. I haven't tried this series, but the shows sure do make me want to try it! The shows are a great introduction to Longworth's series.
The TV series is available on Britbox.
I recommend this Cozy Mystery television series.
Also, if you're interested in taking a look at some other good mystery shows, make sure to go to my Cozy Mystery TV and Movies page.