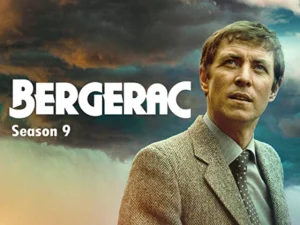 Move over Tom Barnaby: let's focus on Jim Bergerac! Not having grown up in (or visited) England, I didn't know that before John Nettles starred as Tom Barnaby he was another British detective: Jim Bergerac. The TV series Bergerac is set on Jersey, one of the Channel Islands. It is a mixture of French and English cultures and is known as a vacation destination for people who want to enjoy its beautiful beaches. The scenery of this 1980s television series is beautiful… absolutely beautiful.
Jim Bergerac (John Nettles) is a detective who works in an office that does not investigate any of the island's inhabitants – only visitors. The fictitious police department is called the "Foreigner's Office". As such, the viewer sees the ferry, boat docks, and airport in many of the shows. There is also a focus on the trails of the island that overlook the channel – providing beautiful views.
Jim Bergerac is a recovering alcoholic, who still has a lot of contact with his very rich ex-wife. I'm especially glad about that because his ex-wife's father is my favorite character in the show. Bergerac's ex-father in law is played by Terence Alexander. His remarkably good portrayal of a man who would do almost anything for money was such that you probably wouldn't see fault in him bending the rules. He seemed to do everything with great panache.
Bergerac is not only a great detective, but he's also a ladies' man. And, when he doesn't have a new girlfriend, he's hanging out with his ex-wife. I don't think there has been one episode where he hasn't had a woman in his life!
I should warn you: don't expect the Cozy, quaint village feel of Midsomer Murder. Also, I have been watching the Bergerac series on BritBox and (unfortunately) season four is not included. So I missed the "Foreigner's Office" move to a new building, Jim's office secretary transferring to some unknown place, or Jim moving on to a new woman in his life. Speaking of which, Annette Badland played the secretary from 1981 to 1984 in Bergerac, and in 2018 she started appearing in Midsomer Murders as the forensic pathologist.
My husband and I enjoy several shows that we have on our nightly TV rotation, and this is one of them. We're both enjoying Bergerac, and you may too!
Bergerac is available on Britbox through Amazon Prime Video.
Also, if you're interested in taking a look at some other good mystery shows, make sure to go to my Cozy Mystery TV and Movies page.