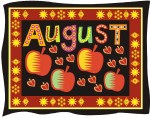 Wow! It's August already!
At the beginning of the summer I wrote about our daughter coming home for the summer to study for the Bar. She took the three-day exam at the end of July, and then immediately started the process of moving. It's been a big summer for her!
We have spent the last week moving her to her first "official" job, – although as some of you know through this blog, she interned every summer during both her college and law school years. Our house has looked like a storage place since she came home to study. We had all of her bins from school out in our living room, with new bins upstairs that she used to pack her "childhood" things into. We had her rowing machine in our family room, and our dining room table housed her breakable things, in short, we have been in a sort of transition stage.
I woke up two days ago with this epiphany: This is it! She is moving on with her life, and from now on, she will simply be "visiting" us… a wonderful accomplishment for her, but not so great for me as her mother! Her bedroom here now houses only has personal mementos: high school newspapers from her years as a reporter and editor, U.I.L. awards, fiction she wrote, history and science papers and projects, all things that probably mean more to me than they do to her. (She's still young, with the passing of time she may just find that those things do indeed matter to her!)
Her life is going just as she planned. She will be working in a job she truly wants, she'll be able to see her college roommate who will still be in Austin for another half year, and she will be living close enough to our home that she can visit when she wants, but far away so that we can't just drop in when we want. (She hasn't said the last part of that sentence, but I'm not so old that I can't remember what it was like to be her age!)
So, with her moving out – and on with her life – it will be a time for the rest of us to adjust to our new family structure. My husband and I will slowly convert into the role my parents held all the years since I graduated from college and moved on with my life. It's a cycle that is inevitable, one which I would much prefer reversing, but unfortunately, in all things related to time, cannot.