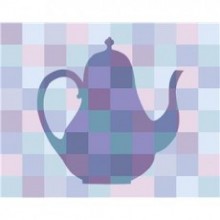 I know the title of this entry may seem odd: 2013 Agatha Awards at the 2014 Malice Domestic Convention… What's with the different years? But, when you think about it, it actually does make sense. >>> This year, they presented the Agatha Awards for the best mystery books from last year. (Incidentally, the Agatha Awards are actually tea pots.)
So, here are all of the nominees and the winners of the 2013 Agatha Awards:
2013 Agatha Award for Best Novel:
The Wrong Girl by Hank Phillippi Ryan (Winner)
Through the Evil Days by Julia Spencer-Fleming
Pagan Spring by G.M. Malliet
How the Light Gets In by Louise Penny
Clammed Up by Barbara Ross
2013 Agatha Award for Best First Novel:
Death al Dente by Leslie Budewitz (Winner)
You Can Cannoli Die Once by Shelley Costa
Board Stiff by Kendel Lynn
Kneading to Die by Liz Mugavero
Front Page Fatality by LynDee Walker
2013 Agatha Award for Best Historical Novel:
A Question of Honor by Charles Todd (Winner)
Heirs and Graces by Rhys Bowen
Death in the Time of Ice by Kaye George
A Friendly Game of Murder by J.J. Murphy
Murder on Chelsea by Victoria Thompson
2013 Agatha Award for Best Short Story:
The Care and Feeding of House Plants by Art Taylor (Winner)
Evil Little Girl by Barb Goffman
Nightmare by Barb Goffman
The Hindi Houdini by Gigi Pandian
Bread Baby by Barbara Ross
2013 Agatha Award for Best Children's/Young Adult:
Escape from Mr. Lemoncello's Library by Chris Grabenstein (Winner)
The Testing by Joelle Charbonneau
Traitor in the Shipyard: A Caroline Mystery by Kathleen Ernst
Andi Unexpected by Amanda Flower
Code Busters Club: The Mystery of the Pirate's Treasure by Penny Warner
2013 Agatha Award for Best Non-Fiction:
The Hour of Peril: The Secret Plot to Murder Lincoln before the Civil War by Daniel Stashower (Winner)
Georgette Heyer by Jennifer Kloester
Mastermind: How to Think Like Sherlock Holmes by Maria Konnikova
Not Everyone's Cup of Tea: An Interesting & Entertaining History of Malice Domestic's First 25 Years by Verena Rose and Rita Owen, Editors
2013 Malice Domestic Award for Lifetime Achievement:
Dorothy Cannell, Joan Hess, & Margaret Maron
2013 Malice Domestic Poirot Award:
Tom Schantz
CONGRATULATIONS TO ALL OF THE NOMINEES AND WINNERS! WHAT AN HONOR!!!