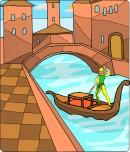 On with the next section of the cozy mystery novels that take place during vacation times. Here is the list of authors who have written one, two, or a whole series of books that take place during vacations, holidays, or simply at exotic locations.
Vacation Mystery Novels by authors whose last names begin with C – D:
Candy Calvert: Darcy Cavanaugh Cruise Mystery Series: Doesn't the name of the series make you want to go take a dip in the ship's pool?
Taffy Cannon (aka Emily Toll): Roxanne Prescott Mystery Series: Guns & Roses… Roxanne, an ex-policewoman, finds herself leading a tour group…
Sarah Caudwell: Hilary Tamar Mystery Series: Thus Was Adonis Murdered… Taking a holiday in Venice ends up not being a good choice…
Lynne E. Chandler has written Mrs. Baul Investigates: Bishop Kidnapped in Egypt. Mrs. Baul is the wife of an Episcopalian priest who is stationed in Egypt.
Agatha Christie: Both the Miss Marple Mystery Series and Hercule Poirot Series provide several vacationing books between them… A Caribbean Mystery,  At Bertram's Hotel,  Nemesis,  Murder on the Orient Express,  Death on the Nile,  A Holiday for Murder,  Evil Under the Sun… (And, I'll bet there are others!)
Carol Higgins Clark: Regan Reilly Mystery Series: Decked… Regan is off to Oxford & Iced… Regan is off to ski in Aspen & Burned… Where it's off to Hawaii for Regan…
Susan Rogers Cooper: E. J. Pugh Mystery Series: Don't Drink the Water… Family reunions don't always turn out to be relaxing, even if the destination is the Caribbean…
Caroline Cousins (aka Nancy Pate, Meg Herndon, & Gail Greer): Their Mystery Series takes place on Indigo Island at the very hospitable Pinckney Plantation…:
Philip R. Craig: Martha's Vineyard Mystery Series: Ex-policeman Jefferson Jackson lives (and solves crimes) on this very best of the best vacation spots…
Deborah Crombie: Kincaid & James Mystery Series: A Share in Death… Holiday time for Detective Superintendent Duncan Kincaid turns out to be more like another day at the office…
Mary Daheim: Hillside Manor Bed & Breakfast Mystery Series: Fowl Prey… Even the owner of a B & B (Judith McMonigle Flynn) is entitled to get away and vacation elsewhere,  Murder, My Suite… Judith goes away for a very deserved skiing trip,  Dead Man Docking… Judith is on a cruise, but sleuthing is on the agenda,  & Scots on the Rocks…finds Judith (where else?!) in Scotland…
William Doonan: Henry Graves Mystery Series: Henry Grave is a senior cruise ship investigator who is also a senior citizen…
If you know of any other authors whose last names begin with C – D and who have written at least one mystery that falls under the Vacation Mystery Theme, please write a comment to the blog or a letter to the site. Thanks!
VACATION MYSTERIES or MYSTERIES THAT TAKE PLACE IN EXOTIC LOCATIONS:
♦To access more Cozy Mysteries by Theme click on this link.♦