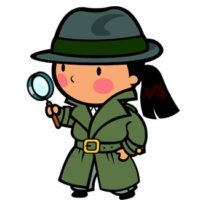 That's right? Nancy Drew will be sleuthing up a storm on the CW network starting this month. It should be premiering Wednesday, October 9 (2019). The show will feature Nancy Drew – a fictional character created by author "Carolyn Keene" (aka Mildred Wirt Benson). A lot of us can remember reading Nancy Drew when we were a bit younger.
Nancy will be played by Kennedy McMann and Scott Wolf will be playing Nancy's father. From what I read in the promotional information, Pamela Sue Martin will be guest starring in the pilot this coming Wednesday night. (Pamela Sue played the intrepid sleuth back in the 1970s TV series.)
There should be plenty of suspects, witnesses, culprits, and mysteries coming our way very soon! However, according to Stephanie Savage, the show's executive producer, this will not be a show aimed at young girls and boys. Nancy will not be the 1930s Nancy that "Carolyn Keene" wrote about. This will be a more "adult version" of the Nancy Drew character.
I wasn't sure if I had the CW network, but found out that I do. It's a very simple process to find out if you do too: Go to cwtv .com and once on their main page, there is a "Find Your Channel" box in the upper right corner. Click on that box and then enter your zip code – and your local affiliate should pop up. 
P.S. My husband and I haven't gone to a movie theater in years. We prefer watching movies at home, so I'm usually very late finding out what movies are out at theaters. When I told my husband about this new Nancy Drew TV show he told me about the Nancy Drew and the Hidden Staircase movie which came out in March of this year. So, of course, I'm adding this to my movies-to-watch list!