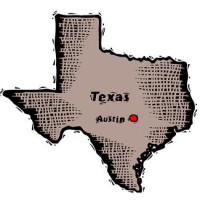 I went up to Austin on Saturday morning to visit my daughter. We had a really good time just taking it easy. We took a walk along the Lady Bird Lake, which I have always thought of as a river. (It flows through the city, but I'm guessing that since a man-made dam is involved, it's not a river.) My husband refers to it as Town Lake, which was its name before being renamed.
After our walk, we went out to dinner, watched television, and yakked the night away. The weather was unbelievably beautiful on Saturday.  Both my daughter and I wore short sleeve shirts. It felt downright balmy at times. Fast forward less than twelve hours.
Yow! The weather on Sunday was the norm for a January day in this part of Texas. I was very glad I had bothered to check the weather forecast before I headed up on Saturday. Around here, if you're going out of town, you had better pack for two separate "seasons." IT was definitely long sleeves and jacket weather on Sunday. (All of you in the northern part of the country would probably consider our Sunday "cold front" weather as "unbelievably beautiful" for your areas. I know this is a case of relativity.)
I remember back to when our children were still in school. >>> Every morning, while my husband was showering, I would tune in to the Weather Channel, and get the day's forecast. I was always ready with the shorts VS long pants, short sleeve VS long sleeves, jacket VS no jacket, forecast they would need for the day. It was never "coat" weather.
I actually remember buying them heavy jackets when we first moved here. People kept telling us that every five (or so) years there would be snow. I was determined we would be ready for it! Those snow jackets were a big waste of money. In all the years we have lived here, only one time was there something on the ground that resembled snow – although it was so thinly distributed on the lawn that it was almost not worth waking everyone up to see it. Almost…