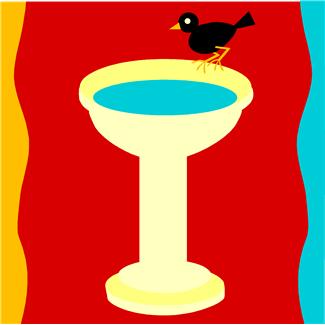 I have mentioned that I took down our bird feeders (except for the Hummingbird feeder) because they were attracting so many squirrels to our yard. The squirrels proved to be very costly for us. One time they bore a hole into our attic, which meant I had to have a roofer and a plumber out to fix our house. The second instance of our squirrels' mischief was when they ate a hole into the base of our chimney. A different roofing company took care of our house that time. (The previous roofer was in jail!)
The third (and hopefully final!) squirrel event was when they bore a hole into the side of our house. Apparently the seeds the birds dropped were only an appetizer for our squirrels. They were more interested in our wood and shingles!
Anyway – to get back to my initial reason for writing this entry:
My husband and I really missed seeing all of the birds (not squirrels!) that used to frequent our back yard. So much so that we finally broke down and got a Goldfinch bird feeder.
Have any of you seen these sweet, little birds? They are tiny! We have one Hummingbird (a real bully!) who is almost as big as our Goldfinches. I'm not sure what the Goldfinches sound like, because I don't think I've ever heard them.  They are a very docile type of bird. There isn't a lot of aggressive chatter that goes on out there.
It has been a slow process for these tiny birds to feel comfortable enough to come to our back yard to feed. Every once in a while the sparrows insist on trying to use the Goldfinch feeder, which in turn scares the little guys away. I feel bad for the sparrows, since I know their beaks are too big to get any seeds from the tiny openings in the Goldfinch feeder, which of course means no seeds below to attract squirrels. However, when I see the sparrows bully the Goldfinches I don't feel bad enough to put up our old bird feeders again.
Twenty years ago, when our children were both little, I never would have envisioned my husband and I watching the birds in our back yard. Perhaps this is why they call this stage in our lives the Empty Nest syndrome!