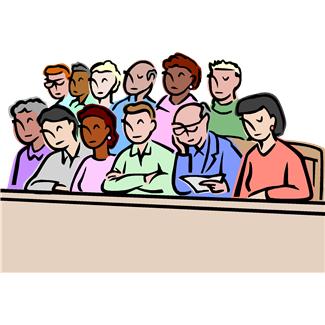 I am writing this entry on Tuesday night, but it will post tomorrow morning. Right now I'm trying to get organized >>> I am in the middle of getting ready for jury duty. (This entry will post as I am driving downtown.) I'm in the middle of packing all of the things I might want to have with me while I wait to see if they plan on keeping me for jury duty, or not.
I always take my notebook/organizer with me to places where I know I'm going to have to sit around and wait. I have gotten a lot of my TV and Movies entries written while waiting for doctors. And I specifically remember writing my What Makes a Cozy Just That? definition while sitting in the very same jury duty waiting room several years ago. Unfortunately, more and more waiting rooms have those pesky televisions blaring, which, with my attention deficit disorder makes it a little more difficult for me to work. I now carry ear plugs in my purse to help drown out talk show hosts whooping it up for their audiences.
Since I have done this jury duty sit-and-wait stint several times before, I know I'm going to need more than just my notebook/organizer. I'm (of course!!!) going to take my Kindle – just in case I'm in the mood to read OR play one of the games I have on it. (Mahjong is my favorite.)
I know I have talked about this before, but I am guessing that at least half of the people there will not have anything to do… no reading materials, no Sudoku puzzle books, NADA, NOTHING, ZILCH, ZIP! It never ceases to surprise me how many people seem to just show up, apparently expecting some television talk show host to entertain them OR perhaps just to sit and enjoy the day.
For some reason, I've never been selected. I (personally) think I'd be really good at being a juror. I'll let you all know if I'm selected.