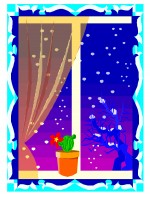 Now that Halloween is a thing of 2012's past, I thought I would share this letter I received about a Christmas mystery book that looks like it might be a lot of fun. I haven't read the book, but from what Kerryn told me, it's sort of a fun book that you can read chapter by chapter, solving the mystery along with its author, Simon Brett. (Kerryn, thank you for telling us about this pretty novel Christmas mystery novel!)
Kerryn:
"A number of years ago I bought a second hand copy of Simon Brett's Christmas Crimes at Puzzle Manor. I noticed it listed on your website but unsure if you've read it. Basically each chapter ends with a puzzle to solve of various types (crossword, anagram, music etc). Solutions are given in the following chapter, if you don't wish to do it yourself. However, I was very determined when I read the book not to continue with the story until I had solved each puzzle (some which took me several days before it clicked into place and worked out the solution). I loved the puzzles, and the fact that they were not basic, simple ones. I have never come across a book like this before or since and wondered if you possibly knew of any other books similar to this? Would be great to hear from you if you could point me in the right direction."
This sounds like a lot of seasonal, holiday fun to me, and I think Kerryn has a great question. Do any of you know of any other mystery books that have the same 'solve-the-puzzle' as this Simon Brett The Christmas Crimes at Puzzle Manor? If so, please post us a comment. Thank you!