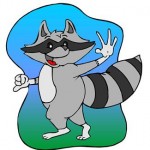 I know I have written (many times!) about our hummingbird feeders, bird feeders, and bird bath. Ever since Sprite "left us" (a year ago) I have been feeding the birds, and we have all enjoyed watching them. (Watching birds is NO substitute for Sprite, but it does provide us some fun happenings outside our kitchen windows.)
I have to admit that since we don't get a very bright-colored group of birds, I prefer the little hummingbirds. They visit our area between March and October. I know I went overboard, but I actually had four hummingbird feeders placed around the yard. I knew that hummingbirds tend to be territorial, so was hoping we would be able to accommodate a few of them at any given time.
Well, we no longer have four hummingbird feeders!
Last week, I was quite surprised to find all four of the feeders totally dry, and one of them actually sitting in the middle of the yard, flipped over. I looked at our neighbors' hummingbird feeder, and sure enough, it was also pulled down off its hook.
We have lived in this area for twenty years, and none of us have ever seen a raccoon…. ever! Those little critters are mighty handy… I cannot believe they were able to climb up the poles and get the nectar out of those little holes in the hummingbird feeders by tipping them just right, but they were. I had no idea raccoons are that stealthy, but rather doubt the little squirrels could pull off this feat.
Live and learn! One visit to our local Wild Birds Unlimited store took care of this little "problem">>> I am down to only two hummingbird feeders on one pole, complete with a squirrel baffle. While I enjoy our birds and some of the squirrels, nightly raccoons are simply not on our agenda!