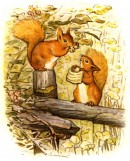 So, you say you want "REAL PEOPLE" mixed into your mysteries! I went through the authors on the site to find the authors who have incorporated "real people" into their mysteries. Since this is the Cozy Mystery Site… most of the authors write cozies…. (By the way, I am writing the descriptions in present tense… even though in some cases… the author is no longer with us…)
Please remember that I only include authors who are on the Cozy Mystery site…
Susan Wittig Albert: The Cottage Tales of Beatrix Potter take place in England during the early 1900s, with Beatrix Potter and her menagerie of animals.
Bruce Alexander (aka Bruce Cook) writes the Sir John Fielding Mystery Series which features Sir John, who along with his older brother Henry, established the first British criminal records  and police department.
Steve Allen writes the (comedian) Steve Allen Mystery Series.
Robert Barnard… as Bernard Bastable he writes the (composer) Amadeus Mozart Mystery Series.
Stephanie Barron (aka Francine Mathews) writes the (author) Jane Austen Mystery Series.
George Baxt writes the Celebrity Sleuth Mystery Series featuring such celebrities as Greta Garbo, Alfred Hitchcock, Marlene Dietrich, Bette Davis, Clark Gable, etc.
Caleb Carr: John Schuyler Moore Mystery Series
Ron Goulart writes the Groucho Marx Mystery Series which features this 1930s Hollywood actor/comedian.
Barbara Hamilton pens the Abigail Adams Mystery Series which is set in colonial Boston.
Stuart Kaminsky writes the Toby Peters Mystery Series, which features Toby sleuthing to help Hollywood movie stars from the 1940s.
Peter King writes the (author) Jack London Mystery Series.
Deryn Lake writes the John Rawlings Mystery Series which features Sir John Fielding (the blind British magistrate who started the Bow Street Runners – the first British police force) along with John Rawlings, a young apothecary..
Anna Maclean (aka Jeanne MacKin) writes the (author) Louisa May Alcott Mystery Series..
J. J. Murphy writes the Algonquin Round Table Mystery Series which features poet/writer Dorothy Parker.
Elliot Roosevelt writes the (first lady) Eleanor Roosevelt Mystery Series..
Rosemary Stevens (aka Rosemary Martin) writes the (Regency England's fashion expert) Beau Brummel Mystery Series..
Nicola Upson: The Josephine Tey Mystery Series is based on the "real life" author of Scotland Yard's Alan Grant Mystery Series.
Nancy Means Wright: The Mary Wollstonecraft Mystery Series features Mary, an English governess in 18th Century Ireland. (Mary was a real person.)
***To access more Cozy Mysteries by Theme click on this link.***