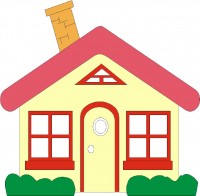 Do any of you have a household trick – or two – you wouldn't mind sharing? I have three, just to get us started.
1.  Those of you who have been with me for a while know I mentioned this one several years ago. Don't throw away your children's tiny toys from yester-year. Instead add a pretty Christmas ribbon & hang them on your Christmas tree. As your children get older, these little toy-ornaments will (probably) end up being your sentimental favorites, along with all of the ones they made for you >>> (even including the ones their teachers had them use toilet paper tubes to make!)
2. When my children were young, I would read their favorite "Golden Books" into a cassette, blowing a whistle at the end of each page to signal when they should turn the page. (Of course, this didn't replace our nightly ritual of reading to them right before bedtime!) They would listen to the books in bed every night. [I guess now this could be done with a child's tablet or digital voice recorder… My children (now adults) actually remember these books over the store-bought books that came with cassettes.]
3. I have also talked about this next tip before – probably lots of times. To all of you cross-stitchers, I use my regular cross-stitch patterns and add Mill Hill seed beads into the pattern. I love the added "pizzazz!"
I know this entry has absolutely nothing to do with reading Cozy Mysteries, but thought it would be fun to hear about some tips you may have.
Do any of you have "tips" you'd like to share? If so, please post a comment. Thank you!