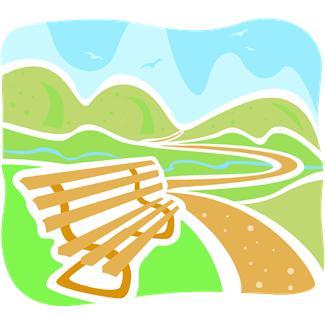 My husband and I just visited our daughter in Laredo, Texas. She has been living there for about half a year, and since she has been so busy, this is the first time we have been down to visit. (She will be working there until this summer when she will be moving to New Orleans for a year. Ever since college, her life has been pretty nomadic. We are hoping that after next year she will return to live in Texas permanently.)
My husband and I have visited Laredo twice before. Both times were while looking for an apartment for her. It just seemed easier for both of us to go down and scope things out for her, rather than for her to take time off from her (then) job in Austin.
We really enjoyed our three days in Laredo. While our daughter was at work on Friday, my husband and I spent the day walking around. We went to Casa Blanca State Park and North Central Park, as well as Laredo's absolutely beautiful mall. The weather cooperated during our visit. It was gorgeous!
She took us to some local restaurants, which was a nice change for us. (We tend to go to chains.) She has found out about some great places from her co-workers. We had really good breakfast tacos at Pano's Bakery Internet Café and absolutely delicious panini sandwiches and salads at Caffe Dolce. (I am not exaggerating when I say "absolutely delicious"!)
She is enjoying her job a lot, and I think she is going to miss it (and her co-workers) when she leaves. Laredo is about three hours from San Antonio, and her job last year in Austin was about 1 1/2 hours from our house. I am definitely not looking forward to next year's day-long drive to New Orleans! I wish my husband and I were more positive about flying!