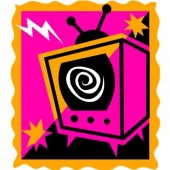 With all of these current comments about television shows, I decided to share a little about what I do each year at this time.
Every new fall television season, I tape all of the new shows and watch them. (We have a Sage television recorder which is fabulous – although "extinct". It enables us to record a lot of different shows at the same time.) I actually go through the television roster and pick out all of the new shows. I then record and watch them, to determine whether they are keepers or not.
You might think that I must devote hours and hours to watching all of the new shows the four major networks have to offer. Actually, I wish that were the case! Unfortunately, I usually don't last more than ten minutes for most shows. I try to "force" myself to watch at least ten minutes, but sometimes I don't even last that long. I can usually tell if the show is something that will "last" for me rather quickly. Some of the time, all I need to see is a "funny" sex joke. If a show's writers think they have to rely on a "funny" sex joke within the first ten minutes to catch the viewer's attention, then they are looking for a different type of viewer than me.
Another thing that tells me the show isn't for me is when I see a cute, angelic, little child doing quick double-take looks at the parents. That or the "always funny" same sweet child rolling his/her eyes at something one of the parents said. Relying on that is a definite turn-off to me. I guess I just don't agree with the laugh-track technician.
Let's see, what are some other pet peeves of mine… (I think I'm on a roll!!!)
How about doctors and lawyers on these shows who look like they are nineteen years old? >>> And I'm not talking about Dougy Hauser, MD! What happened to all of those years of college and then medical school, interning, residency, etc.? At least give me a lawyer with four years of college, followed by three years of law school, I'll give it a break and not put in the LL.M.s!
Here's yet one more thing that will determine if I'm able to last longer than ten minutes watching a new show: Give me some actors who are not "generic" looking actors. I'd like to be able to differentiate between the actresses and actors. I mean, do all of the actors have to be buff, Chippendale looking men? Do all of the actresses need to look like they all received the same cosmetic surgery upon graduating from high school? And, when I say I'd like them not to all look alike, I don't mean throw a blonde in amongst the brunettes!
Yes, I know, I'm a tough crowd!!!
So far, this season, I have two possible shows that I will continue watching. Two out of the entire new television roster for all three channels. That's pretty telling, isn't it? But, at least I have two possible shows. Some years I don't even have one!
How about you? How do you find new shows to follow? Do you have any pet peeves when it comes to finding a new show?