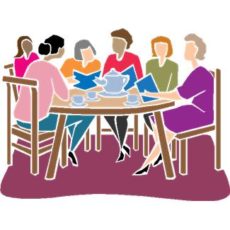 As I was recently reading A Killer Read, (you can read my blog post on that Cozy here), I couldn't help but notice how often Lizzie and her fellow Book Club members mention their favorite mystery authors. The novel even introduces most of them at about the same time as they mention some of their own personal favorite reading material, a good way for canny mystery lovers to get a flavor of the sort of person each might be from their literary leanings. Quotations from mystery authors also begin each chapter. There are even reading lists at the end of the book of other mysteries that are thematically appropriate for each member of the Ashton Corners Book Club.
Of course, this is all very appropriate for the series >>> it does revolve around a mystery book club, after all! So it isn't out of place or jarring, except for the slight surprise I get every time I see a "real person" inserted into a fictional world. And this isn't the only Cozy series I can think of where real world Cozy authors are mentioned "in setting" in a Cozy >>> Miranda James comes to mind, as I believe that both Carolyn Haines and Charlaine Harris are mentioned as authors who have visited Charlie's bookstore (hmm… maybe another possibility for me to reread some time soon…)
So I thought I'd ask if you enjoy seeing mentions of your other favorite authors in Cozies that you are reading. Personally I like it >>> as long as it is appropriate to the book! Also, are there any other series that you can think of that insert a character's personal reading material into the setting that you particularly enjoy? If so, please post a comment. Thank you!