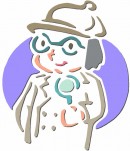 Cozy Mystery reader (Rabia) just asked this question:
"I was wondering if there are any cozy mysteries with a protagonist that is in their twenties? Maybe rich and in their 20s?"
I think that Daisy Dalrymple (Carola Dunn) is in her 20s when the series begins, as well as Aurora Teagarden (Charlaine Harris) and Faith Fairchild (Katherine Hall Page) >>> and possibly the Blackbird Sisters (Nancy Martin). Does anyone else know (for sure) if any of the sleuths are in their 20s?
Here is the link for the entry: "Rich Sleuths Theme Mysteries"
Also, in case I misunderstood the comment… Does anyone have suggestions for Cozy Mystery series with protagonists (rich or not rich) who are in their 20s?
Sleuths in Their 20s:
Victoria Abbott  (aka Mary Jane Maffini & Victoria Maffini): Book Collectors Mystery Series
Barbara Allan: Trash 'n' Treasures Mystery Series
Madelyn Alt: Bewitching Mystery Series
Sheryl J. Anderson: Molly Forrester Mystery Series
Rhys Bowen: Royal Spyness Mystery Series
Kate Carlisle: Bibliophile Mystery Series
Agatha Christie: Tommy and Tuppence Mystery Series
Max Allan Collins (aka 1/2 of Barbara Allan): Mallory Series
Susan Conant & Jessica Conant-Park: Gourmet Girl Series
Amanda Cooper (aka Victoria Hamilton): Teapot Collector Mystery Series
Carola Dunn: Daisy Dalrymple Mystery Series
Janet Evanovich: Stephanie Plum Mystery Series
Kerry Greenwood: Phryne Fisher Mystery Series
Charlaine Harris: Aurora Teagarden Mystery Series
Dorothy Howell: Haley Randolph Mystery Series
Anna Loan-Wilsey: Hattie Davish Mystery Series
Nancy Martin: Blackbird Sisters Mystery Series
Alyssa Maxwell: Gilded Newport Mystery Series
Katherine Hall Page: Faith Fairchild Mystery Series 
Elizabeth Peters (aka Barbara Michaels): Vicky Bliss Mystery Series
Rhonda Pollero: F. A. T. Mystery Series…
Maria E. Schneider: Sedona O'Hala Mystery Series & stand alone: Catch an Honest Thief
Dornford Yates: Richard Chandos Series
If you know of any, please post a comment.
♦To access more Cozy Mysteries by Theme click on this link.♦