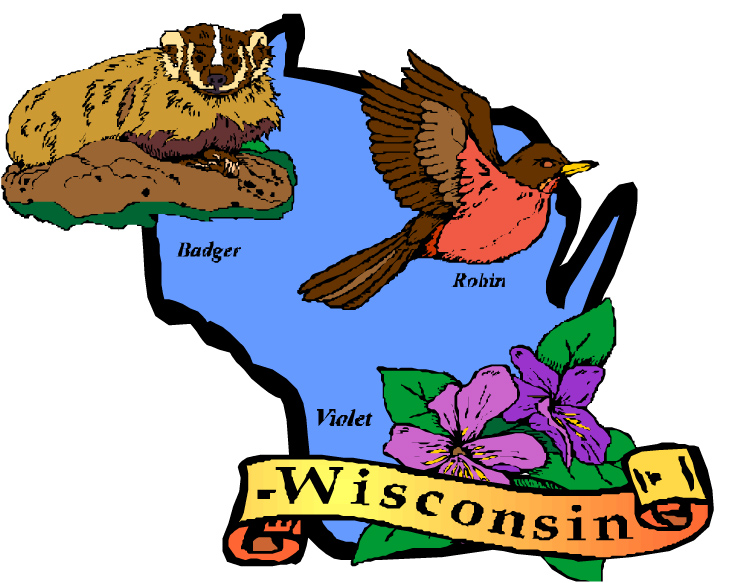 Here are some fun Wisconsin facts:
The state capital is Madison.
The largest city is Milwaukee.
State motto is "Forward."
State nickname is the Badger State.
State flower is the Wood Violet.
State bird is the Robin.
State animal is the White-tailed Deer.
Wisconsin has 7,446 rivers and streams!
Mystery authors who are found on the Cozy Mystery Site who feature Wisconsin locations in their books:
Allyson K. Abbott (aka Annelise Ryan & Beth Amos): Mack's Bar Mystery Series – Mackenzie "Mack" Dalton is the owner of a bar who serves up justice.
Laura Alden: PTA Mystery Series – Beth Kennedy is the owner of a children's bookstore.

Sandra Balzo: Maggy Thorsen Mystery Series – Maggy is a woman who runs her own coffee shop while solving crimes.
Susan Bernhardt: Kay Driscoll Mystery Series – Kay Driscoll is a retired nurse who volunteers at the local free clinic.
Ginger Bolton (aka Janet Bolin): Deputy Donut Mystery Series – Emily Westhill runs a donut shop along with her retired chief of police dad and her Tabby cat, "Deputy Donut" >>> in Wisconsin.
Christine DeSmet: Fudge Shop Mystery Series – Ava Oosterling is the owner of a copper-kettle fudge shop who sleuths while sharing space in her grandpa's bait shop.
Kathleen Ernst: Chloe Ellefson Mystery Series – Chloe is the curator of a living history museum in Wisconsin during the 1980s.
Victoria Houston: Loon Lake Fishing Mystery Series – Lewellyn Ferris is the police chief who enjoys fly fishing while thinking up whodunnit.
Mary Grace Murphy: Noshes Up North Mystery Series – Nell Bailey is a retired turned food blogger who lives in Wisconsin.
Hannah Reed (aka Deb Baker): Queen Bee Mystery Series – Story Fischer manages her bees while also managing to solve mysteries.
Annelise Ryan (aka Allyson K. Abbott & Beth Amos): Mattie Winston Mystery Series – Mattie is an ex-nurse who currently serves as a deputy coroner, which comes in handy in her investigations.
Please feel free to comment if you see an author from the Cozy Mystery Site who belongs on this list, or if you have any corrections.
♦To access more Cozy Mysteries by Theme click on this link.♦