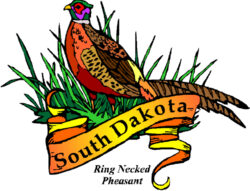 Mystery Books that Take Place in South Dakota…
Here are some South Dakota facts:
The capital is Pierre and the largest city is Sioux Falls.
State motto is "Under God, the People Rule".
State nickname is the Mount Rushmore State.
State flower is the Pasque flower.
State bird is the Chinese Ring-Necked Pheasant.
South Dakota got its name from the Sioux word dakhota meaning "friend"..
Mystery authors who are found on the Cozy Mystery Site who feature South Dakota locations/settings in their books:
Ann Charles: Deadwood Mystery Series – Violet Parker is a real estate agent in Deadwood, South Dakota, a former gold rush town.
Kathleen Taylor: Tory Bauer Mystery Series – Tory is an overweight widow  who is a waitress in a little town in South Dakota.