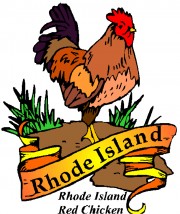 Here are some Fun Rhode Island Facts:
State Motto: "Hope".
State Flower is the Violet.
Capital and Largest City is Providence.
State Bird is the Rhode Island Red Chicken.
State Nickname is "The Ocean State" and "Little Rhody".
This smallest state in the USA was the last of the 13 colonies that became a state and the first state to issue a speeding ticket (in 1904).
Mystery authors who are found on the Cozy Mystery Site who feature Rhode Island locations/settings in their books:
Shelley Freydont: Newport Gilded Age Mystery Series
Alice Kimberly (aka Cleo Coyle): Haunted Bookshop Mystery Series
Mary Kruger: Gilded Age Mystery Series
Alyssa Maxwell: Gilded Newport Mystery Series
Suzanne Young: Edna Davies Mystery Series
Please feel free to comment if you see an author from the Cozy Mystery Site who belongs on this list, or if you have any corrections.
♦To access more Cozy Mysteries by Theme click on this link.♦